Review
DreamHost Web Hosting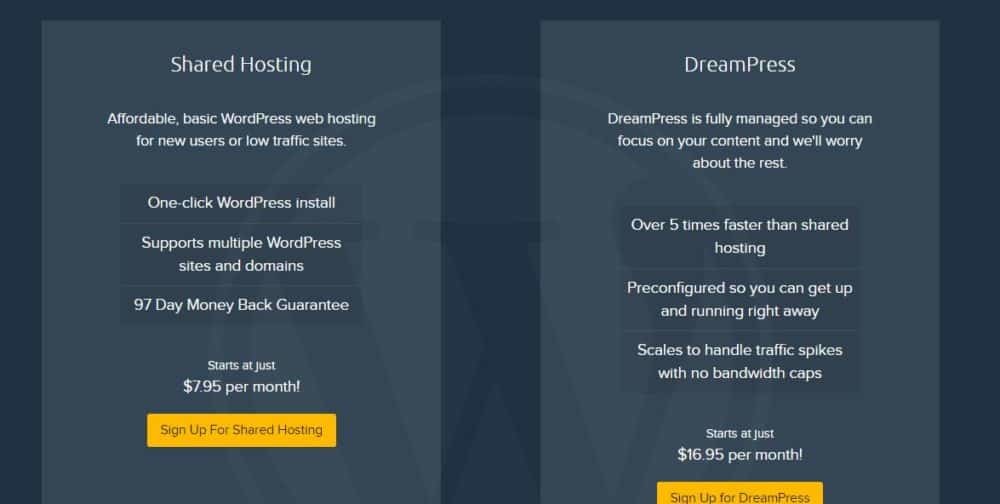 Overview
DreamHost Web Hosting WordPress hosting plans include easy setup, automated updates and backups, 100% network uptime with no bandwidth limitations and 24/7 WordPress support.
•Web-based Control Panel
•PHP5 Support
•Full Unix Shell
•Rails, Python, Perl Support
•SSL Secure Server
•Crontab Access
•Canned CGI Scripts
•Access to Raw Log Files
•Full CGI Access
•Server Side Includes (SSI)
•Subversion Repository (SVN)
•Unlimited MySQL Databases
•IPv6 Support
•3-Year (billed triennially): $7.95/month
•1-year (billed annually): $9.95/month
•Month-to-Month (billed monthly): $10.95/month
Small (<50 employees), Medium (50 to 1000 Enterprise (>1001 employees)
What is best?
•SSL Secure Server
•Crontab Access
•Canned CGI Scripts
•Access to Raw Log Files
•Full CGI Access
DreamHost provides domain registration, web hosting and cloud services to 1.5 million sites, blogs and applications, and supports over 400,000 web designers, developers, content creators, small businesses and entrepreneurs with the power of the Open Web.
Their Web Hosting service comes with a 97 Day Money Back Guarantee where unhappy customers get all their money back minus any domain registration fees. With DreamHost's 1-click WordPress installer, users can instantly get their WordPress-based blog online.
They also provide online entrepreneurs all the tools that they need to run a successful online business. Thousands of designers trust DreamHost to host their design portfolios and resellers can host and manage all of their clients' websites in one easy-to-manage web hosting account. Furthermore, DreamHost is PCI compliant and offers its users all the tools that they need to run an ecommerce website.
DreamHost provides Unlimited Storage & Bandwidth so that users have all the space that they need to build their sites and they'll never have to worry about traffic limits. They can also access Unlimited Domain Hosting and be able to host and manage as many websites and domains as they like within one account at no extra charge.
For those requiring multiple email accounts, DreamHost allows them to create and manage as many email addresses as they need with unlimited POP/IMAP/SMTP accounts, plus unlimited auto-responders and more. Users can pay as they go, or save up to 20% when they sign up for multiple years.