Review
Doxim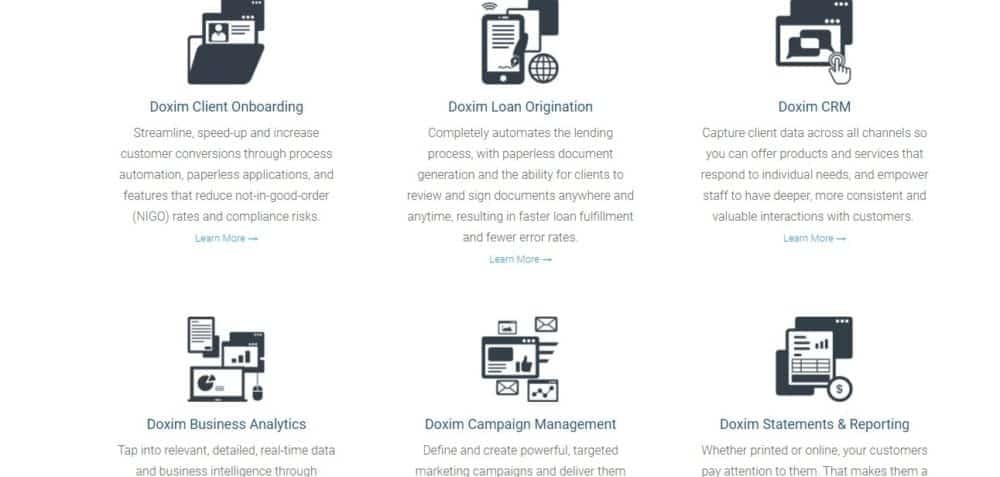 Overview
Doxim Customer Engagement Platform helps financial institutions digitize their client experience, communicate more effectively throughout the client lifecycle and improve cross sell and upsell activities to drive increased wallet share.
Customer Engagement Platform
• Connect with Your Customers Like Never Before
• Cross-Sell More Effectively
• Keep Customers Engaged
• Keep Customers Engaged
• Increase Operational Efficiency Through Digitization
Small (<50 employees), Medium (50 to 1000 Enterprise (>1001 employees)
What is best?
• Connect with Your Customers Like Never Before
• Cross-Sell More Effectively
• Keep Customers Engaged
• Keep Customers Engaged
Doxim's Customer Engagement Platform (CEP) is a modular suite of applications that help users build customer satisfaction and loyalty while cross-selling effectively during key moments in the customer lifecycle. Doxim gathers essential insights about users' customers during every routine interaction from loan origination, to account opening, to service-related interactions in branch or over the phone.
Then use these insights to make targeted, personalized product and service recommendations across all of users' channels, increasing both customer satisfaction and revenue generation. Too often, untargeted client communications, disjointed service experiences, and seemingly minor errors erode the client relationship and leave users' clients looking for alternatives. The Doxim CEP can help the users deliver a consistently excellent, personalized customer experience that keeps them happy and engaged.
Transform all users' manual processes into cost-effective, efficient omni-channel experiences. From client onboarding and loan origination automation, through improved, personalized communications to anytime, anywhere content access, tailored to users' clients' channel preferences, the Doxim CEP is a one-stop shop for digitization technologies that reduce users' operational burden.
The Doxim Customer Engagement Platform allows the users to start by solving a pressing customer engagement need and then expand from there, leveraging the modular design that allows individual components to be adopted in any order, and remain seamlessly integrated.
Doxim also defines and creates powerful, targeted marketing campaigns and deliver them across users' customers' favorite channels, from printed statements to email and social media. Doxim even evaluates success rates with detailed campaign analytics, so users constantly improve their marketing ROI.