Domo enhancements to accelerate ROI and adoption across the enterprise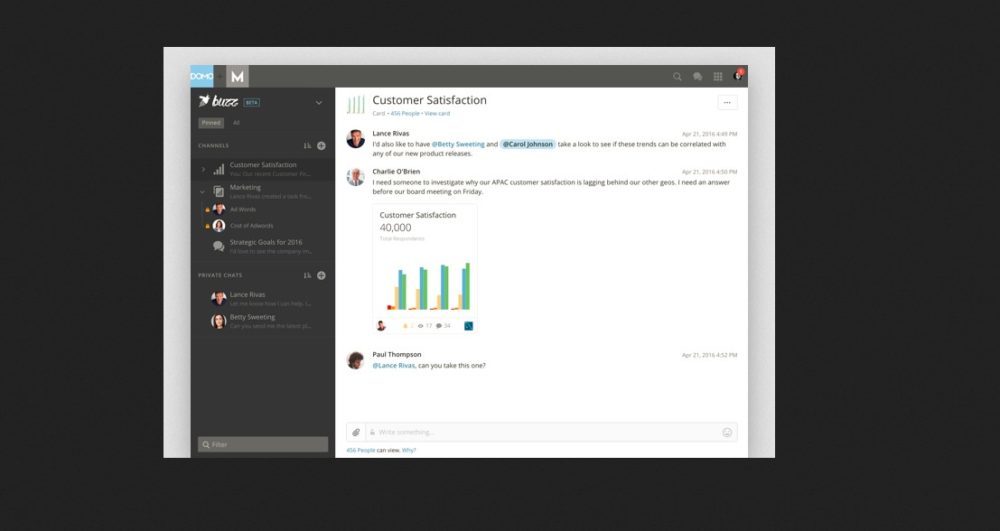 Annotations makes communication about data even more fluid. With Annotations, Domo gives business decision makers the ability to quickly highlight the most significant insight or question directly on top of a chart or data point, from either their desktop or mobile device. The annotated cards can be easily shared via Domo's integrated social collaboration tool to focus business conversations around the most pressing business questions. Alert Center is a new, personalized, dynamic and highly visual console that helps business decision makers keep their fingers on the pulse of what's happening across their business and take appropriate action. Combining anomaly detection, personal data consumption patterns, trending company focus points and an analysis of an organization's most-watched metrics, Domo can surface the most relevant, personalized view of exceptional conditions, patterns, changes and information that business decision makers need to know.
Domo's Data Lineage is a new visual representation of data's journey through the platform, to help users understand the source(s) and actions that have already been taken on that data. With Data Lineage, analysts can quickly validate the quality of their data, instantly see freshness and status of individual upstream data sources that are being blended together, and understand what makes up the data and transformations that have come together in the downstream data source they are focused on.
Domo cards have always offered powerful filtering to let users segment data by a particular value, such as by year or by geographical location. Now analysts can create highly guided analysis paths and make the most common views easier to access from quick "slicer" buttons on the main card interface. Leveraging this capability, business decision makers will more quickly find and navigate to the views the analysts have prepared through these simplified interfaces.
Domo's new period-over-period visualizations make it easy to compare today's activities to a relevant period in recent history. This instant, internal benchmarking capability eliminates old methods of manually computing calculations and overlaying them against the current period, allowing the business to more quickly get to insights and actions that drive performance.Domo increases the data storytellers toolkit by providing an even greater range of visualization types and greater control over color choices to emphasize the most relevant data. All are available on mobile or desktop.Building on its portfolio of pre-built content, Domo Business-in-a-Box, is a complete set of pre-installed, rapid deployment dashboards for all major business functions across the enterprise. Domo Business-in-a-Box makes it easy for business decision makers across an organization to get up and running quickly with their own data and quickly understand their performance against key metrics.