Domo Cloud makes Automation and Self-Service Transform the Way Business is Run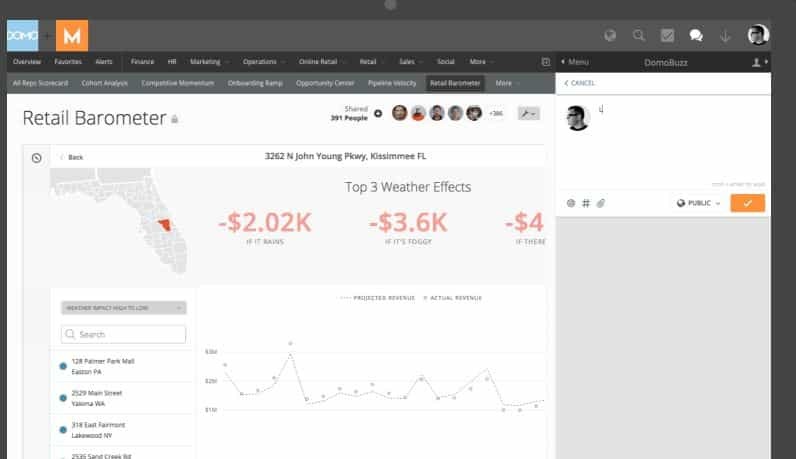 Domo Cloud makes Automation and Self-Service Transform the Way Business is Run : Domo is a cloud-based business management platform that gives CEOs, managers and information workers across the business the ability to make faster, more effective decisions by giving them one place to easily access all the information they need.Domo bring together in one platform all the technical components required for business users to get meaningful value from business data. With Domo, users can easily connect, prepare, visualize, collaborate and optimize around data for better decision making and improved performance.By automating and normalizing the way data is collected and presented, Domo frees users from the inefficient, time-consuming tasks that have kept them from contributing to more strategic, higher value activities for their organizations. Social collaboration helps users get to better insights and make better decisions more quickly, while also reducing the need for meetings to get everyone on the same page. Optimization features, such as alerts, allow users to manage by exception and focus on what matters most.
40 individual 1-Click Apps, part of Domo's unique connector framework strategy simplifies the process of connecting to a data source and loading users' data into Domo. 1-Click Apps also provide pre-built reporting templates based on best practices for an industry, role, domain or data source. This first release of 1-Click Apps are all QuickStarts for some of the most popular apps, helping users get themselves up and running very quickly in the Domo platform.To enable a 1-Click App, users simply select an icon within Domo of their preferred data source – such as Facebook's analytics, Jira, Box Analytics or Zendesk. They are then prompted by that system for their standard login credentials; this connects to the data provider and begins populating pre-built templates of Domo cards and KPIs built on best practices-driven content. Domo's 1-Click Apps build from the foundation of Domo's more than 300 unique data connectors.
Domo Magic, is a set of powerful, automated, self-service tools that make ETL, a traditionally complicated process for preparing data for analysis, easy. Magic features a visual user interface (UI) with drag-and-drop functionality to enable a broad, non-technical audience to visually assemble traditional ETL functions like joining, cleaning and transforming as self-service. Because Domo is a comprehensive data platform, users design these rules for their data just once. Every time the data updates, Domo automatically does the work. Domo also includes powerful, yet intuitive, tools for users who prefer to leverage more traditional approaches like SQL and standard ETL clients to join, prepare and transform their data in Domo.
Card Builder is a new self-service version of the data visualization capability Domo has offered from the beginning. With Card Builder, a user selects the data sets to be visualized and Card Builder immediately analyzes them, presenting a recommended "starter" visualization of that data that can then be adjusted and personalized by the user to tell exactly the story they want. This experience is much easier than using traditional business user toolsets like Excel or PowerPoint to get the right data into the right charts, graphs and visualizations. Card Builder is part of Domo's portfolio of advanced visualization solutions, which also includes Domo Apps and a rich repository of different charts, graph types and self-service tools that allow users to further customize their visualizations on their own.
"We've been focused on taking the complexity out of the process when it comes to accessing, understanding and leveraging data," said Josh James, Domo founder and CEO. "In working with enterprise customers over the last couple years, we've found that the investment of time and resources required just to connect to the data is a deterrent to many projects aimed at helping the business user. Through tools like 1-Clicks, Magic and Card Builder, we're taking away those barriers."