Review
Dolibarr ERP/CRM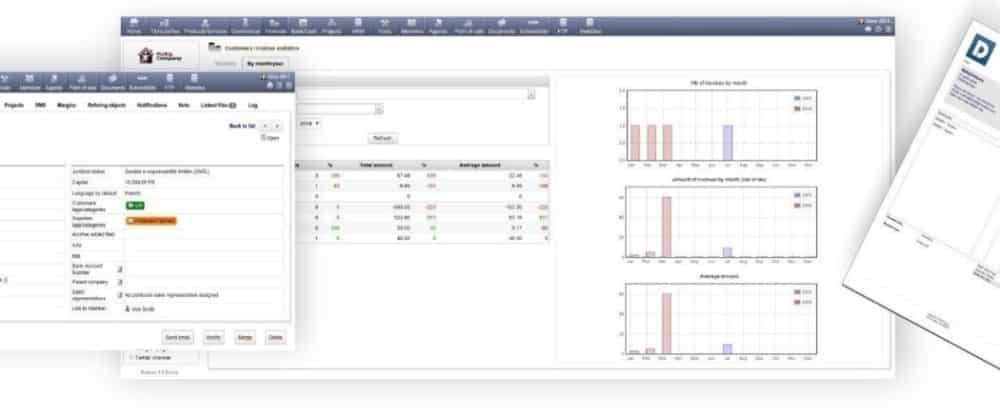 Overview
Dolibarr ERP & CRM is a modern and easy to use software package to manage your business (customers, invoices, orders, products, stocks, agenda, e-mailings, shipments...)
• Claims administration
• CRM/Sales
• Finance and Billing
• Human Relationship (HR)
• Integration
• Marketing
• Product and Stock
• Productivity
• Project Management
• Shipping Management
• Support for Data export
Small (<50 employees), Medium (50 to 1000 Enterprise (>1001 employees)
What is best?
• Claims administration
• CRM/Sales
• Finance and Billing
• Human Relationship (HR)
• Integration
• Marketing
• Product and Stock
Dolibarr ERP & CRM is a modern open source software package, licensed under the GNU General Purpose License 2.0, and helps manage your business activities and projects effectively and efficiently. It is written in PHP and uses MySQL database for data storage. It works with all PHP configurations and does not require any additional PHP module.
Dolibarr's aim is to create an application that is easy to develop, easy to install, and easy to use. With Dolibarr, you are able to set up the application to your needs by enabling only your preferred business management features. The features and modules that you decide to use are integrated to work immediately without any further customization.
Dolibarr's modular structure allows upgrades to new versions without losing any previously held data. Dolibarr's market place is available to all developers and organizations and contains a centralized database for hundreds of external add-ons. Dolibarr's free open source model drives innovation by allowing thousands of developers, testers, and translators to work on the project. It's also modeled to enhance end user interface experience built from the feedback given by a large base of users.
Dolibarr can be used as a stand-alone application or in an online platform on a dedicated server from anywhere in the world or on any device. It is can be installed from auto-installer packages that install Dolibarr and associated files with no need of technical knowledge, or from standard distribution that works with all Operating System platforms like Windows, Mac, or Linux, and any PHP architecture. It is also available as a SaaS application on ready to use Cloud services. Dolibarr ERP/CRM has become a major integrated solution and is currently used by millions of users across the world.
You may like to read: Top ERP Software, Free, Open Source ERP Software, Top ERP Software for SMB, Top Cloud ERP Software, ERP Software for Large Business.