Review
DocuSign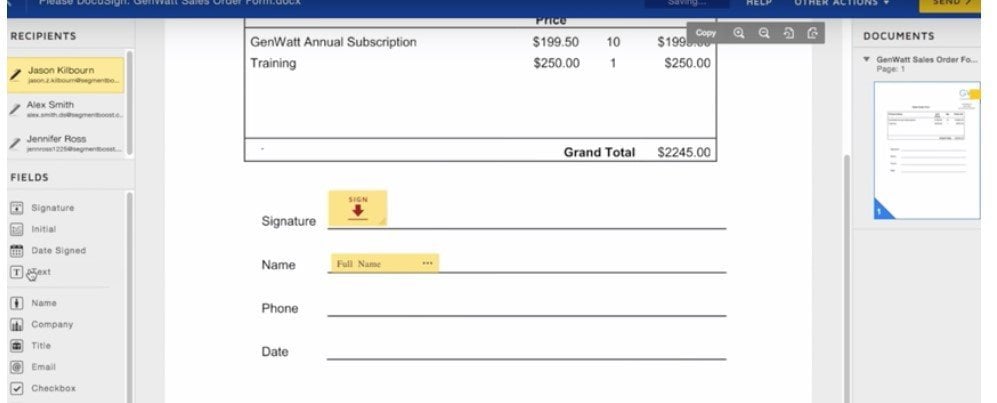 Overview
DocuSign provides a secure way to sign and approve just about anything from any mobile device—anywhere in the world.
· Achieve key business outcomes digitally
· Increase speed to value
· Minimize Risk
· Great customer support
· Easy, simple to use interface
· Extensive file type support
· Email-based authentication
30 day free trial. Starts at $10 per month. Contact for more pricing details.
Small (<50 employees), Medium (50 to 1000 Enterprise (>1001 employees)
DocuSign is a leading eSignature brand that is transforming digital business management. DocuSign enables people around the world to electronically sign documents, approvals, and agreements.
It works on any device and in any time zone. Whether users are approving a purchase, closing a sale, or signing an agreement, it's easy with DocuSign. DocuSign is both reliable and a trusted worldwide brand for electronic signatures. With over 100 million users, DocuSign allows the user to sign anywhere, anytime and works with all of the favourite, most-used apps.
But, eSignatures are just the start! DocuSign also helps you manage your digital transactions. It's about more than eSignatures. DocuSign enables fully digital workflows that save money, increase efficiency, and move business forward. Using DocuSign is easy and simple. With just three steps business can be revolutionized. Step one: upload your document using Microsoft Word, PDF, or other common document formats from a computer or from popular file- sharing sites like Box, Dropbox, Google Drive, and OneDrive.
Step two: Indicate who needs to sign by adding the names and email addresses of the signers and other recipients, and even specify the order in which they should sign. Step three: Place the tags and send the document. Drag and drop DocuSign tags to indicate where a signature, initial, or date is needed. You can also add standard or custom fields for signers to fill in. Then click send. DocuSign emails a link to each recipient which the recipient's can use to access the document. Once the document is complete, it's stored securely for easy retrieval.