Review
DivvyCloud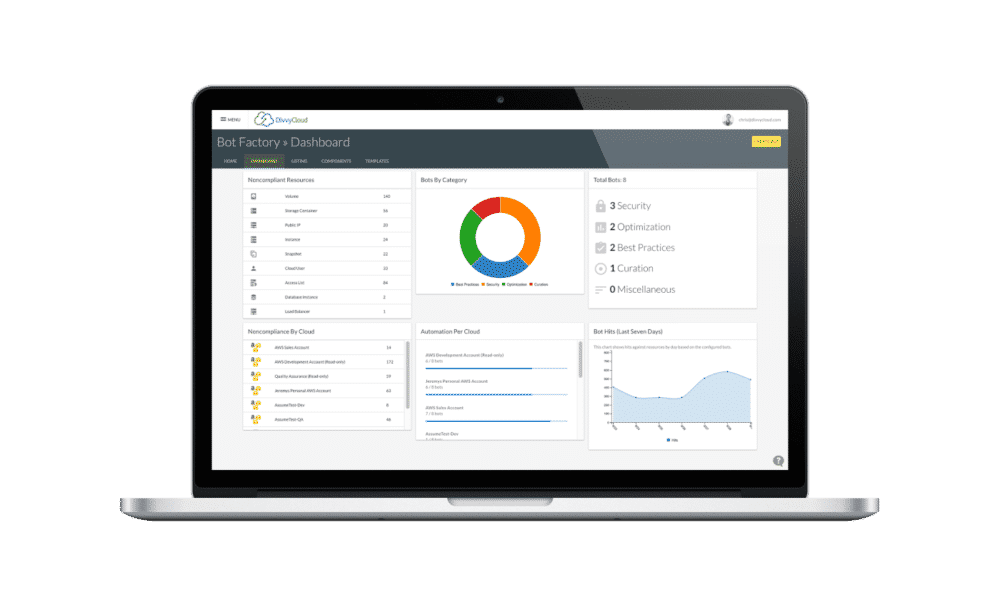 Overview
DivvyCloud helps IT deliver the speed, cost savings and agility of cloud while ensuring active compliance with security policies and operational best practices.
Hybrid Cloud Management Platform
100+ Bots Available
Intelligent System
Automate Policy Enforcement
Enterprise Level Support
500+ Instances
Extensive Support for Public & Private Clouds
SMALL $249/ month
MEDIUM $899/ month
LARGE $3,500/ month
ENTERPRISE (Custom)
Small (<50 employees), Medium (50 to 1000 Enterprise (>1001 employees)
DivvyCloud does a pervasive, continuous harvesting of cloud infrastructure data for real-time visibility regardless of how resources are provisioned or changed. It is a unification engine abstracts and normalizes different cloud services into a common data model with standardized lifecycle controls.DivvyCloud has more than 100 Bots available and is still growing and used for automation of security compliance, cost optimization and best practices as well as Security Rule, SLL Certificate, Audit Scheduled Instances and many more. DivvyCloud's intelligent system delivers real-time insights across cloud deployments, and provides user or programatic controls to take action. Its automated platform allows customers to automate compliance and self-heal infrastructure ensuring security, cost and operational best practices.DivvyCloud continually harvests data across clouds and accounts detecting change. Automation and active policy enforcement allow customers to embrace the speed and agility of cloud while still maintaining compliance around security, cost and performance.
DivvyCloud provides its users identify non-compliant resources, quarantine and heal them back into compliance instantly, apply policy changes and optimize cloud resources wherever, however they were provisioned, identify and automatically resize, stop or terminate underutilized resources and work with other policy or orchestration engines to effect changes in the organization's cloud environment.When it comes to cloud management, DivvyCloud provides a real-time, pervasive and in-depth view of the company's entire multi-cloud infrastructure; it also tracks and manages firewall rules, users, packages, keys and other key aspects of infrastructure security. Its simplified cloud management is a single, in-depth pane of glass into resources across clouds and cloud accounts with standardized life cycle controls. And with Unified Cost Tracking, users get insight into the cost of the company's cloud resources.