Devize for cloud based Monte Carlo Simulation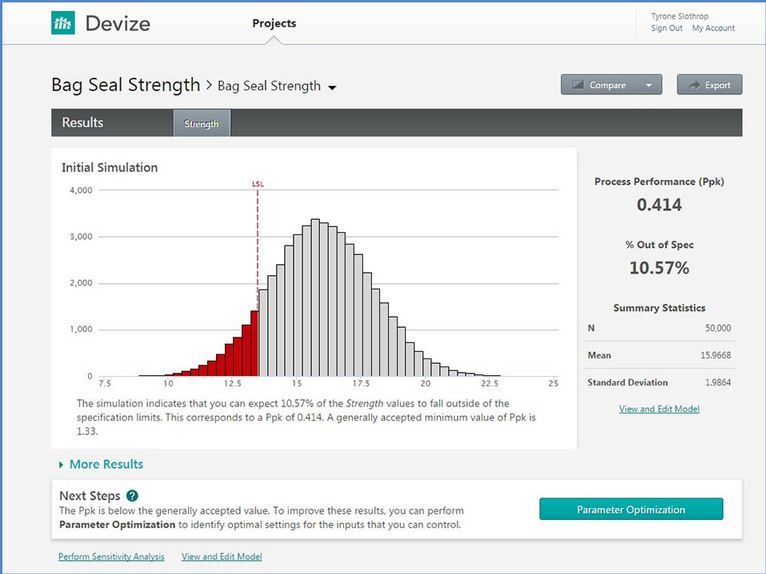 Devize for cloud based Monte Carlo simulation : Devize, is a cloud based Monte Carlo simulation product for engineers, which is designed to guide them through the entire simulation and optimization process. Devize is from Minitab, one of the world's leading developers of statistical software. Devize features include monte carlo simulation, parameter optimization, sensitivity analysis, distribution identification, minitab models, simulation comparison and project sharing.
Devize, let users to define the model and run a Monte Carlo simulation using the normal, triangular, uniform, and Weibull distributions. The Devize workflow allows users to easily simulate possible outcomes and offers clear, accessible results that are presented with straightforward explanations. The user is led through their analysis without any guesswork and the recommended next steps are provided, making it easy to understand what adjustments are necessary to improve processes and reduce defects.
Devize includes parameter optimization to find the optimal settings for input variables, sensitivity analysis to help visualize how variability in the inputs affects the output, distribution identification to recommend a distribution that provides the best fit for the data, and simulation comparison to evaluate results side-by-side and demonstrate improvements. Sensitivity Analysis lets to visualize how variability in the inputs affects the output to identify and quantify the factors driving variation.
Project sharing allows users to seamlessly share results with colleagues. The web based application requires no installation and results are easily accessible from any desktop or mobile device.