Datameer Big Data Analytics Platform for Hadoop-as-a-Service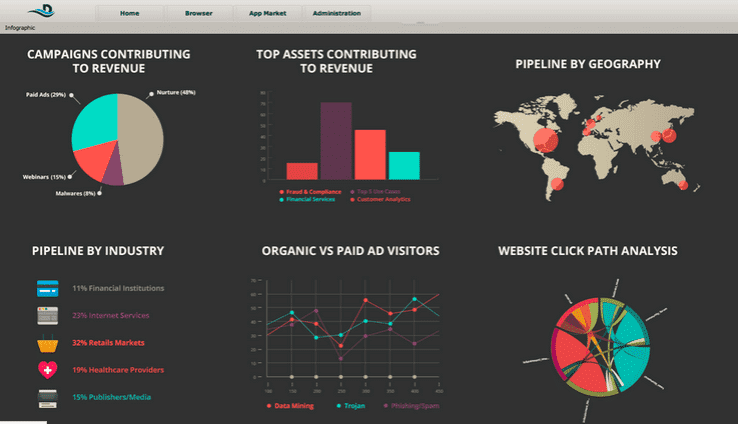 Datameer Big Data Analytics Platform for Hadoop-as-a-Service : Datameer Professional, is a SaaS big data analytics platform targeted for department specific deployments. Datameer offering features leading Hadoop cloud providers Altiscale and Bigstep. Datameer simplifies the big data analytics environment into a single application on top of the powerful Hadoop platform. Datameer combines self-service data integration, analytics and visualization functionality that provides the fastest time to insights. The success of enterprise Hadoop adoption is driving a growing demand for access in the cloud, as more business users with limited IT or Hadoop expert resources want direct and immediate access to their data, regardless of its size. Datameer Professional is an affordable and agile option for business executives within an organization who want to start integrating, preparing, analyzing and visualizing all of their data right away. As a fully managed hosted SaaS, Datameer Professional does not require any DevOps or cloud administration.
Datameer simplifies the big data analytics process into a single self-service big data application on top of Hadoop, disrupting a multi-process system. With more than 70+ pre-built data connectors for any data type, size or source, a spreadsheet user interface, and over 270 pre-built point and click analytic functions, business analysts are empowered to take direct control of their data and discover new insights through use cases like customer analytics, operational analytics, cyber security, and more.
Datameer's SaaS offering is the fastest way for business managers to get started with big data without needing to wait for IT to deploy an enterprise-wide solution. By working with leading and proven HaaS cloud vendors Altiscale and Bigstep, the added offering is one more way that Datameer is increasing data accessibility and ensuring fastest time to value.
For on-premise Hadoop deployments, Datameer offers Datameer Enterprise, the big data analytics platform currently in production with over 200 customers. Smart Execution is a patent pending technology created by Datameer to dramatically accelerate Datameer workloads. Smart Execution uses in-memory technology, and leverages new advances in the Hadoop ecosystem in a seamless and transparent fashion, while isolating end users from these changes. Using a new dataflow engine with a DAG-based optimizer, Smart Execution continually optimizes each analytics pipeline at runtime, considering data size, available cluster resources, and using cost-based optimization techniques. The resulting pipeline can combine multiple YARN-based computation frameworks, which today include Apache Tez and a single-node execution mode for smaller workloads. This, combined with new in-memory technology, delivers dramatically improved performance for many use cases, including complex analytics jobs with mixed-size workloads, and iterative algorithms like Datameer's clustering, decision trees, and recommendation engine.
"Datameer Professional is the accelerant the market has needed for individual departments within an organization to stop talking about the benefits of big data and Hadoop and start realizing them immediately," said Stefan Groschupf, CEO of Datameer. "Now companies that want to gain a competitive advantage with big data analytics right away can simply purchase Datameer Professional running on a HaaS offering and discover actionable insights in hours or days, not months. We believe that this will catapult Hadoop adoption as businesses discover shared success between departments and discover new use cases, encouraging the entire company to become data-driven."