Dataiku's Data Science Studio on Microsoft Azure to create and deploy complex dataflows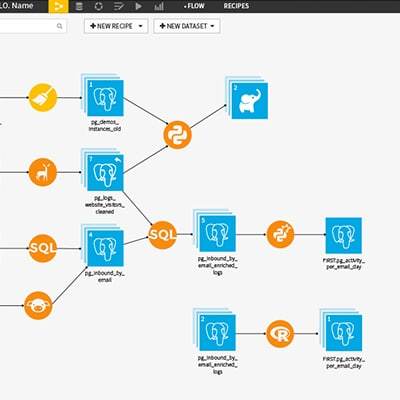 Dataiku Data Science Studio (DSS), available on the Microsoft Azure cloud platform. DSS is an end-to-end platform that enables data teams of all skill levels to create powerful predictive analytics solutions using the latest data analysis and machine learning technologies.DSS provides data professionals with an intuitive interface that gives analytics teams the ability to explore data from multiple data sources (Hadoop, Spark, SQL databases, etc) and leverage the tools and programing languages (SQL, Python, R, etc) they are already familiar with. DSS is able to connect to all types of data sources such as CSV files, SQL databases, MongoDB, HP Vertica, Amazon Redshift, Hadoop, Spark, and more.
By combining the capabilities of DSS with the speed and scale of Azure, new analytics paradigms can be created, allowing data professionals to create adaptive solutions that can react to changes in data and create advanced "what-if" scenarios, while taking advantage of the convenience, speed, and agility of Azure.
"We are excited to make DSS available on Microsoft Azure. This allows any sized business to simply and easily develop their own predictive analytics solution within the cloud," said Thomas Cabrol, co-founder of Dataiku and Director of Partnerships. "The combination of Microsoft Azure and DSS allows teams to collaborate using DSS's web-based interface to design, build, and actually deploy data products quickly and effectively all the while utilizing the technologies and machine learning techniques they know best."
"In today's business environment, analyzing and ultimately utilizing the massive amounts of data available is important for any size business to stay competitive," said Nicole Herskowitz, senior director of product marketing, Microsoft Azure, Microsoft Corp. "Using Dataiku Data Science Studio, our mutual customers can merge the power of predictive analytics with the speed and agility of Microsoft Azure."
Dataiku develops Dataiku Data Science Studio, the unique advanced analytics software solution that enables companies to build and deliver their own data products more efficiently. Thanks to a collaborative and team-based user interface for data scientists and beginner analysts, to a unified framework for both development and deployment of data projects, and to immediate access to all the features and tools required to design data products from scratch, users can easily apply machine learning and data science techniques to all types, sizes, and formats of raw data to build and deploy predictive data flows.
You may also like to read, Predictive Analytics Free Software, Top Predictive Analytics Software, Predictive Analytics Software API, Top Free Data Mining Software, Top Data Mining Software,and Data Ingestion Tools.
Top Predictive Lead Scoring Software, Top Artificial Intelligence Platforms, Top Predictive Pricing Platforms,and Top Artificial Neural Network Software, and Customer Churn, Renew, Upsell, Cross Sell Software Tools
More Information on Predictive Analysis Process
For more information of predictive analytics process, please review the overview of each components in the predictive analytics process: data collection (data mining), data analysis, statistical analysis, predictive modeling and predictive model deployment.