Review
Datahug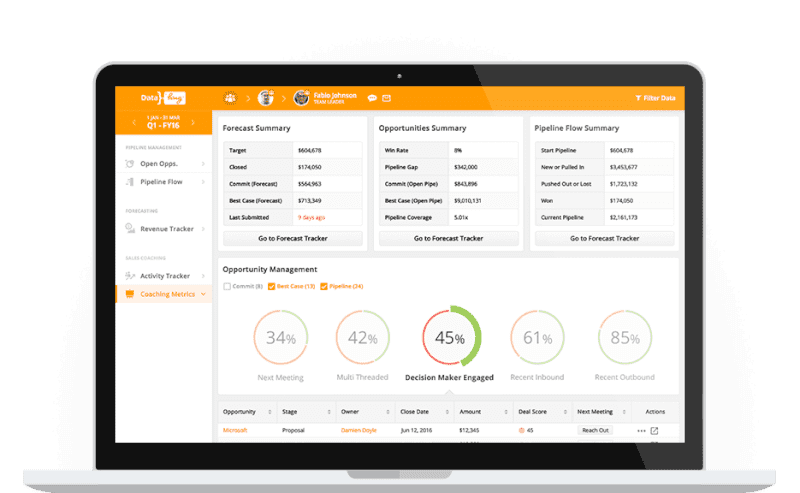 Overview
Datahug Forecast Rollup maintain a 'live' company-wide forecast and have confidence in the deals that make up the number, schedule weekly forecast submissions and enable overrides up and down the hierarchy, record notes, be aware of red flags and know about deals in the forecast that are unlikely to close.
Sales Intelligence Platform
•Coaching Metrics
•Activity Tracking
•Forecast History
•Forecast Rollup
•Pipeline Flow
•Pipeline Management
Small (<50 employees), Medium (50 to 1000 Enterprise (>1000 employees)
What is best?
•Coaching Metrics
•Activity Tracking
•Forecast History
•Forecast Rollup
Datahug is a collaborative forecasting and pipeline management solution, built in Salesforce.Datahug automates essential components of the sales process including lead routing, deal strategy/stakeholders, deal next steps, pipeline management, forecasting, forecast accuracy. By automating these capabilities, it allows to get real-time information without manual and administrative steps.Within Salesforce, gives a deeper understanding of the history and dynamics of each deal. Allows to see all communications with those involved, even contacts not already associated with the opportunity in CRM.
Pipeline Flow allows seeing how the pipeline has changed over a customizable period of time. Understand if the deals which the team are closing are more likely to come from commit or no. This information can be used to create a best practice around pipeline management and a strong predictable pipeline.Provides each person with objective data to guide their predictions and focus their time. Drill down from each manager to the sales representative and individual deals that make up their forecast. Include the existing fields to assess deals and run "what-if" analysis, so exporting everything to Excel to make sense of the data is unnecessary.
Reduces the amount of time spend rolling up forecasts in Excel and saving away versions of the commit. Captures and make reportable a complete history of all forecast submissions.Datahug automatically captures activities from Gmail or Exchange server, giving complete transparency into communications with customers and prospects.Datahug measures ability to engage multiple stakeholders, get next steps and keep deals on track.
You may like to read: Top Sales Intelligence Platform