Review
Displayr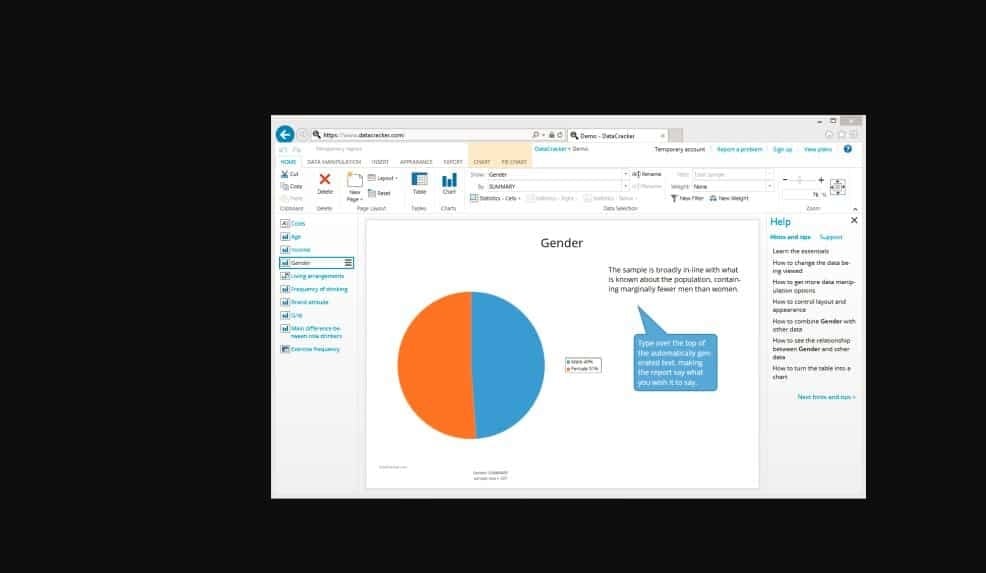 Overview
Displayr provides building apps that brings data science, visualization, and reporting to everyone
Data Analysis Software Free
• Analyze up to 100 responses per survey
• Easy-to-use web-based analysis tool
• Create tables and charts
• Create word clouds
• Reformat your data
• Interesting results automatically highlighted (significance testing)
• Free
• Basic - $19 per month; Billed $228 annually
• Standard - $25 per month; Billed $300 annually
• The Lot - $65 per month; Billed $780 annually
Small (<50 employees), Medium (50 to 1000 Enterprise (>1001 employees)
What is best?
• Analyze up to 100 responses per survey
• Easy-to-use web-based analysis tool
• Create tables and charts
• Create word clouds
• Reformat your data
What are the benefits?
• Interesting results are automatically highlighted
• Easy and intuitive to use
• You can share your insights
• Has powerful predictive modeling
• Can discover which questions relate to each other
Displayr provides building apps that brings data science, visualization, and reporting to everyone. The two main products are Displayr, the world's first complete data science tool; and Q, the complete toolkit for market researchers.
Now you can discover the story in your data, and create impressive reports, dashboards and visualizations without the need to reformat your data, have specialist coding knowledge, or involve IT or other outside consultants.
Displayr is the only BI tool built specifically with survey data in mind. Displayr makes it easy to connect your data from virtually any source (without complex reformatting) letting you focus on the important things.
Using the easy drag and drop interface, you can discover that 'lightbulb' moment without being (or employing) a statistician. Displayr is doing all the heavy lifting for you – using the latest statistics, visualizations, and the incredible power of 'R'.