Data Warehouse Optimization Appliance from Informatica and Cisco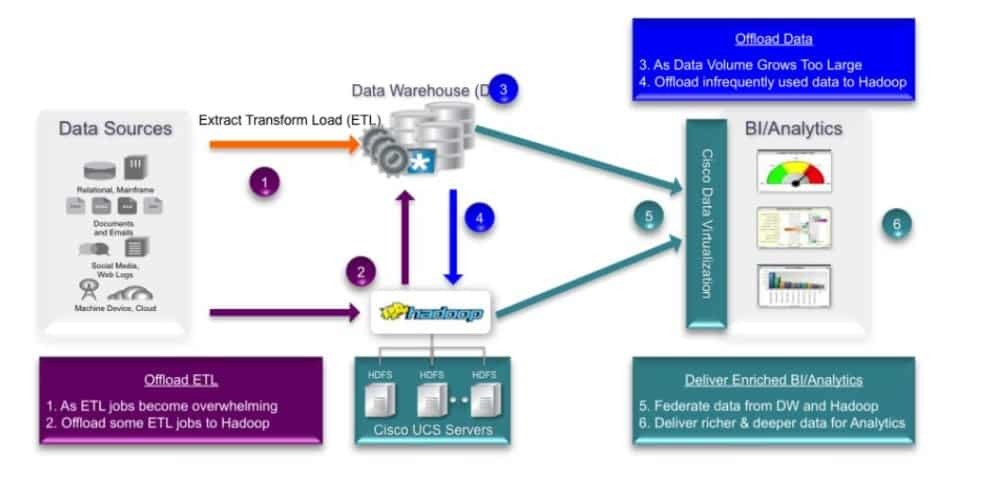 Data Warehouse Optimization Appliance from Informatica and Cisco : Informatica released a joint Data Warehouse Optimization solution with Cisco by combining Informatica and Cisco technologies with Hadoop, for organizations looking to modernize data management and fuel new business insights. The new Data Warehouse Optimization solution provides a single platform for offloading processing and storage for data warehouses to Hadoop. enables customers to integrate and analyze more data and types of data, more effectively and economically, with lower risk. With the growing pace of business and increasing use of mobile devices and industrial sensors, businesses have never had as much opportunity to create competitive edge fuelled by data. New scalable and efficient technologies such as Hadoop are enabling larger quantities and varieties of data to be collected, perfected, and protected to drive new innovations and fuel competitive edge.
Enterprises seek simpler solutions for accelerating the deployment of modern data management environments while minimizing risks in the areas of productivity, maintainability and data governance. The most viable solution is to offload ETL/ELT processing and archive data to Hadoop to free data warehouse resources for higher value tasks.
The Informatica and Cisco Data Warehouse Optimization solution helps minimize the risks of transitioning from traditional systems to Hadoop for faster integration and preparation of greater volumes and more varieties of data.
"Data warehouse optimization is a key IT initiative of data management modernization and the pursuit of next generation analytics," said Ash Parikh, vice president of product marketing, Data Integration and Security, Informatica. "Utilizing proven Cisco and Informatica technologies for big data integration and archiving, data virtualization, and big data management, the Data Warehouse Optimization solution provides a simple and trusted solution for organizations seeking the scalability and economics of Hadoop."
The Data Warehouse Optimization solution works with a customer's Apache Hadoop distribution of choice, including Cloudera, Hortonworks and MapR. The solution provides a complete software, networking and computing infrastructure for utilizing big data in all its varieties, encompassing Informatica Big Data Edition, Cisco Data Virtualization Platform and Cisco Unified Computing System.
Informatica Big Data Edition runs data integration and data refinement workloads (e.g.: ELT and ETL) natively on Hadoop for superior scalability and performance, and enables infrequently used historical data to be archived to Hadoop for superior economics, while keeping archived data readily accessible to business users and analytic applications. Cisco Data Virtualization Platform federates data across the data warehouse and Hadoop for logical data warehousing, empowering organizations with a comprehensive view of all their data assets coupled with seamless data availability. Cisco Unified Computing System provides a simple, high- performance and highly scalable Hadoop-optimized hardware platform that combines compute, networking, storage and unified management capabilities for efficiently and cost-effectively handling big data.
"The Data Warehouse Optimization solution is about enabling organizations to more easily leverage all their data assets – current and historical, transaction and interaction – for more effective analytics while reducing their data management costs," said Mike Flannagan, vice president and general manager of Data and Analytics at Cisco. "More than the sum of its parts, the solution's Cisco and Informatica elements work synergistically to meet the demands of big data, to respond quickly to changing information needs, and to deliver insights that drive increased competitiveness and business innovation."