Dassault Systèmes Adds Three Intelligence Packs with MPI 4.0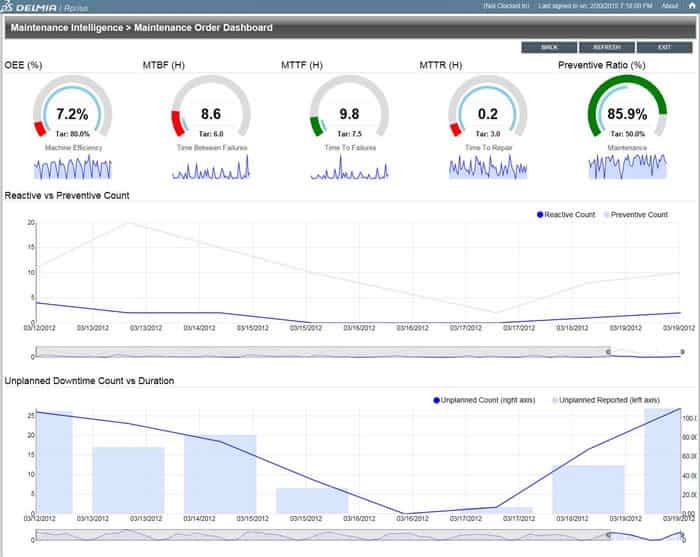 Dassault Systèmes Adds Three Intelligence Packs with MPI 4.0 : Version 4.0 of Dassault Systèmes' DELMIA Apriso Manufacturing Process Intelligence (MPI) application adds new Maintenance, Logistics and Warehouse Intelligence Packs and add visibility to another 200+ new KPIs, offering industry's most robust solution for enterprise manufacturing intelligence. As an Enterprise Manufacturing Intelligence (EMI) solution, MPI makes it faster and easier to assess and improve operational performance. Better visibility to actionable intelligence lets manufacturers execute process improvement faster and with greater precision while optimizing efficiency, throughput and quality.
Manufacturers operating globally are challenged to accurately measure analytics across sites to identify "best-in-class" performance. MPI 4.0 now offers 700+ pre-configured, built-in measures and KPIs within seven DELMIA Apriso Intelligence Packs. These metrics offer ways to measure nearly any type of operational KPI, from the perspective of nearly any type of user. Intelligence Packs are pre-configured to work out-of-the-box with existing Apriso products (or may be integrated with other vendor products) to deliver the industry's most robust EMI solution for global manufacturing excellence.
MPI 4.0 now offers Maintenance, Logistics and Warehouse Intelligence Packs, in addition to existing Production, Machine, Labor and Quality Intelligence Packs. This application suite delivers granular visibility into manufacturing operations for anyone seeking to:
Accelerate decision support and performance comparison across sites, Better meet management's need for real-time data (see: Executive Intelligence Center application), Improve operational performance and continuous process improvement on a global scale, Increase operational agility to respond faster to change and Expand visibility into product traceability and root-cause analysis.
Dassault Systèmes, the 3DEXPERIENCE Company, serves 190,000 customers across 140 countries, providing virtual universes for sustainable innovation. Dassault Systèmes' DELMIA brand offers products that connect the virtual and real worlds of manufacturing. As part of DELMIA, the Apriso product portfolio – including its suite of manufacturing operations management applications – helps manufacturers transform their global operations to achieve and sustain operational excellence.