Review
darktable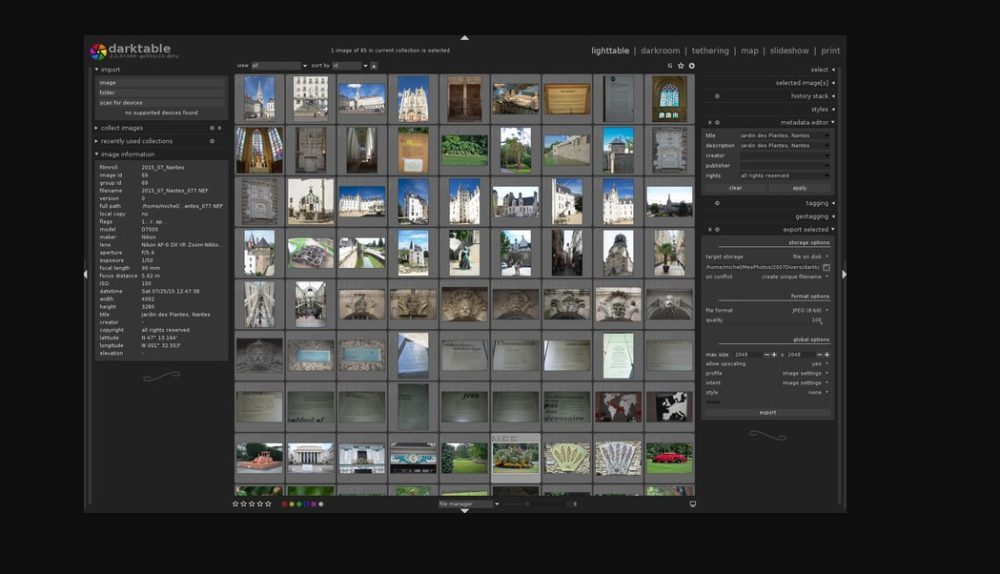 Overview
darktable is an open source photography workflow application and raw developer
Workflow Automation Software Free
• Import a variety of standard, raw and high dynamic range image formats
• Zero-latency fullscreen, zoomable user interface through multi-level software caches.
• Tethered shooting.
• 21 translations: Albanian, Catalan, Czech, Danish etc
Small (<50 employees), Medium (50 to 1000 Enterprise (>1001 employees)
What is best?
• Darktable runs on GNU/Linux / GNOME, Mac OS X / macports and Solaris 11 / GNOME.
• Fully non-destructive editing.
• All darktable core functions operate on 4x32-bit floating point pixel buffers, enabling SSE instructions for speedups. It offers GPU acceleration via OpenCL (runtime detection and enabling) and has built-in ICC profile support: sRGB, Adobe RGB, XYZ and linear RGB.
• A collect module allows you to execute flexible database queries, search your images by tags, image rating (stars), color labels and many more. Filtering and sorting your collections within the base query or simple tagging by related tags are useful tools in your every-day photo workflow.
What are the benefits?
• Export system supports Picasa webalbum, flickr upload, disk storage.
• Both XMP sidecar files as well as its fast database for saving metadata and processing settings.
• Filtering and sorting your collections within the base query or simple tagging by related tags are useful tools in your every-day photo workflow
darktable is an open source and a virtual lightable and darkroom photography workflow application and raw developer for photographers which comprises a subset of image editing operations specifically aimed at non-destructive raw photo post-production, manages digital negatives in a zoomable and lightable database and enables users to develop raw images and enhance them.
Darktable has features such as crop and rotate, base curve, exposure controls, highlight reconstruction, demosaic, white balance, invert, fill light, levels, tone curve, zone system, tone mapping, overexposed, velvia, channel mixer, color contrast, color zones, color transfer, vibrance, input/output/display color profile management, sharpen, equalizer, denoise (non-local means), denoise (bilateral filter), lens correction, spot removal, chromatic aberrations, raw denoise, hot pixels, watermark, framing, split toning, vignetting, soften, grain, highpass, lowpass, monochrome, lowlight vision, shadows and highlights, bloom, colorize and graduated density, importing/exporting, scripting and multi-mode histogram, built-in ICC profiles, GPU acceleration (based on OpenCL), and supports most common image formats.
darktable includes 47 image adjustment plugins which are divided into basic group (plugins for simple well-known photo adjustment operations), tone group (plugins related to contrast and lighting), color group(plugins related to hue and saturation), correction group (plugins for repairing visual imperfections) and effect group (artistic postprocessing plugins). Darktable's smooth user interface is built around efficient caching of image metadata and mipmaps which are all stored in a database and produces high quality output with lightable, darkroom, tethering and a map view. darktable can be controlled by scripts written in Lua version 5.2 where Lua can be used to define actions which darktable should perform whenever a specified event is triggered.
You may like to read: Top Free, Premium & Open Source Workflow Automation Software and How to Select the Best Workflow Automation Software for Your Business