Review
Custora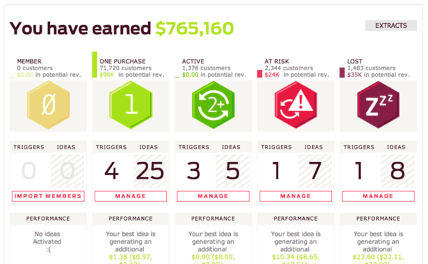 Overview
Custora is a predictive marketing platform built for e-commerce teams. Our software helps retailers acquire valuable customers and improve customer retention
Business Intelligence Software
Predictive Customer Lifetime Value Analysis
Persona Analysis
Churn Detection
Customer Segmentation
Cohort Analysis
Trend Analysis
Complete Email Integration
Lifecycle segmentation
Beyond opens and clicks
A/B Testing and More
Automated Marketing
One-time Experiments
Small (<50 employees), Medium (50 to 1000 Enterprise (>1001 employees)
Custora is an analytic software platform. The software performs analysis of customer related data, the software reveals terms and information relation to customers, it enables users to keep a track of important and high value of customers. The software enables users to win back their customers and to retain them.
The software uncovers essential data points related to customers. The software predicts potential group of customers. The software identifies what customers want to buy, how they will buy it, how frequently they will purchase it and how much they would spend in their buying process. All this information helps users make some very important decisions. Advertising campaigns can be targeted to customers and communication patterns can be organized accordingly. The software reveals life time value of various marketing segments.
The software identifies where high value customers exist so that marketing campaigns can be directed towards them. The software prioritized various marketing channels. Depending upon prioritization best marketing channels could be identified. The software reveals which advertising efforts and networks reach to high value customers. The software identifies those networks and optimizing marketing and advertising efforts. The software makes efforts to encourage customers to make their initial purchases.
The software product trial and experience. The software then makes efforts to help them repeat purchases. The software identifies customers who are likely to leave. These customers are identified and users make efforts to win back these customers. Thus the software triggers trial and repeat purchases.
The software enables users to retain and win back customers. Custora's primary target is to eliminate the "mass" from marketing with the help of various software tools which emphasis on customers considering them to be individuals with different needs and wants. The software helps the marketers to deliver more accurate, related and significant communications with their customers by integrating with email providers directly.
The software plays a vital role and made it possible for the retailers to firstly acquire the valuable customers and secondly retaining them in a best possible way. This software first analyzes the gathered data to forecast that what the customer behavior is going to be like in the future? Which things they will be interested to buy, how frequently they will be visiting the shops, how much money they will be willing to spend? Etc.
Such type of significant insights about customers buying behavior help the brands to better understand about how to target the specific audience through advertising and effective communication through meaningful ways.With the help of the predictive Customer Lifetime Value analysis of Custora, get a chance to know instantly about who is going to be the valuable customer and whose not. Which enables to easily enhance ad spend more towards those channels which are attracting high-CLV customers.