Review
Curtis Finch Contracts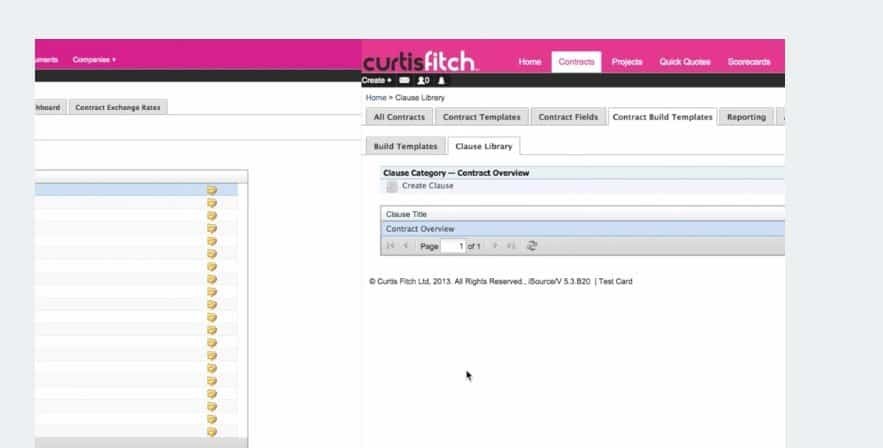 Overview
Curtis Fitch develop an intuitive and innovative eProcurement software suite that combines everything your business needs for eSourcing, Contract Management and Supplier Relationship Management.
Contract Lifecycle Management Software
eSourcing
InSight
Business Process
Data Security
Management Reporting
VPN server access
Message Hub
Dashboards can be exported to excel, Jpeg and PDF
Auto-clause selection
Full Approval Workflows
CF Benefit Tracker
Work online
Small (<50 employees), Medium (50 to 1000 employees), Enterprise (>1001 employees)
CurtisFitch is a customizable and flexible mobile software for creating a compliant supply base. It includes four modalities, each of them focused on different complications throughout the contract creation process. They are CF Source, CF Insight, CF Contracts and CF Analytics.
The first one, CF Source project management is a simple and powerful tool with the ability to create multiple sourcing templates and line items. As the cloud powers it, it allows the user to standardize their approach to eSourcing, taking offline processes and allowing user to create templates online.
Also, this online service improves relationships and participation among stakeholders (stakeholder management) as it provides them with a message hub to communicate, the possibility of tracking from any device, and the special CF Benefit Tracker.
The second one, CF Insight is a supplier on-boarding, pre-qualification, supplier directory creation, risk and performance management software. It provides scorecards and workflows to manage risk, compliance and performance, facilitates feedback and capture specific information from the suppliers.
The third one, CF Contracts is a software to create, manage, store, report and track contracts. It features four main tools to fulfill the requirements of the contract management stages. It has a contract builder with auto-clause selection, a fully configurable clause library, communication and audit records, and full approval workflow with the possibility of tracking changes.
With this feature the whole process can be managed easily from start to completion. Also, it manages a contract repository to remove risk ensure compliance across the users' supplier contracts, and KPI (Key Performance Indicator) manager, with scorecards and automated questionnaire delivery.
The last one, CF Analytics makes sense of the data by creating dashboards and reports based upon pre built dimensions and measures. It is powered by Qlik Sense technology which can export the files to excel, Jpeg and PDF. All of the sub-software's combine to cover the whole process of the contract creation process.
You may like to read: Top Contract Lifecycle Management Software, Top Free Contract Management Software and How to Select the Best Contract Lifecycle Management Software for Your Business