Crimson Hexagon Adds Audience Affinities to its ForSight Social Analytics Platform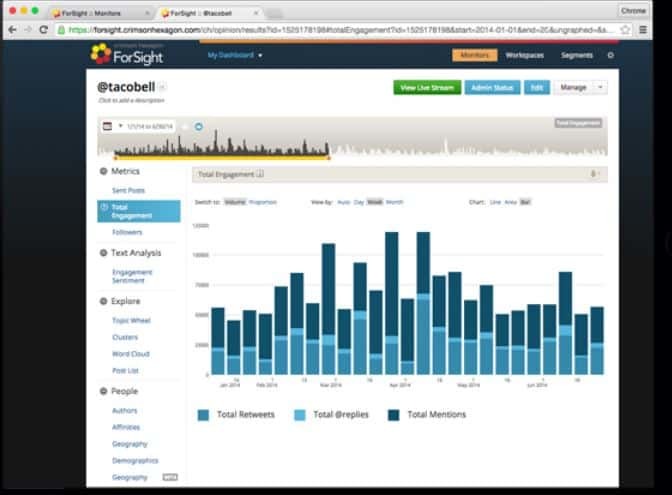 Crimson Hexagon Adds Audience Affinities to its ForSight Social Analytics Platform : Crimson Hexagon, the social media analytics software company, announced the addition of Affinities to its ForSight analytics platform. Powered by ForSight's suite of technologies, algorithms and data visualizations, Affinities taps into more than seven years of social media data to provide agencies and brands with insights about the interest areas of their customers and target markets. In turn, brands use the insights to improve the ROI of a variety of marketing and organizational activities, from advertising buys to consumer research to brand messaging to inbound marketing campaigns.
As marketing grows increasingly customer-centric, the ability to obtain detailed and deep insights about consumers' interests and passions represents a significant competitive advantage. Crimson Hexagon's technology analyzes its library of more than 600 billion Twitter posts to determine how likely a brand's audience is to be interested in a specific topic, either as compared to the general Twitter population or a competitor's audience on the social platform. As opposed to other market solutions, which analyze interest areas based solely on self-identified topics in users' bios, Affinities assigns interests to individuals using an algorithm that takes into account the people and organizations the consumer engages with and the common topics that those people and organizations discuss. Using Affinities, marketers can easily and quickly determine and visualize the organic interest areas of people talking about their brand, product or campaigns.
"What matters in today's marketing landscape is how well you understand your customer and target audience. By blending cultural intelligence and data science, Crimson Hexagon enables us to confirm or deny assumptions about who our clients' customers really are and what those customers truly value. The insights from Affinities help us give our clients a leg up when it comes to branding and marketing," said Jacob Harris, Principal at the strategy consultancy firm Schireson. Schireson uses Affinities to help customers like luxury stroller brand Bugaboo better understand and target customers.
Since it launched in 2007, Crimson Hexagon's ForSight platform has offered a number of audience analysis features designed to give agencies and brands insight into their customers and targets. Over the years, the product has evolved to give users information about what an audience is talking about, how old they are, where they live, who influences them and how they react to specific topics. Now, with the addition of Affinities, ForSight gives marketers a full suite of features that enable them to make informed, measurable decisions about how to target prospects, delight customers and reach new audiences, replacing the need for lengthy focus groups, costly surveys and manual analysis.
John Donnelly III, senior vice president of global sales and marketing at Crimson Hexagon said, "Marketers use social analytics for many reasons – to benchmark against competitors, measure influence and track the reach of a campaign. Those data points are certainly important, but the most valuable aspect of social media data is what it can tell you about your customers. With ForSight, and Affinities specifically, brands and agencies gain access to a goldmine of insights that help them put the customer at the center of any campaign, ultimately leading to higher acquisition rates, more qualified leads, better engagement and increased sales."