Review
Corridor CLM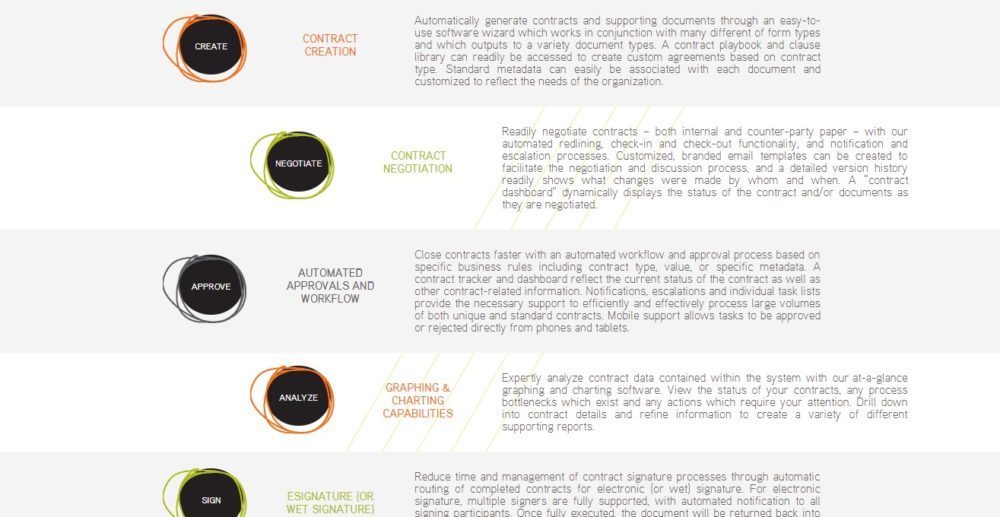 Overview
Corridor Company is committed to continually evolving our software product line to meet the challenges of contracts and their proper management. With a business application platform that readily provides solutions for Contract, Proposal and Supplier Management,
Contract Lifecycle Management Software
E-signature
Automatic creation of contracts, supporting documents, contract playbooks and clause libraries
Contract dashboard
Automated approvals
Risk-converter (obligations into risks)
Workflow
eSourcing
Can request a free demo
Contact for pricing
Small (<50 employees), Medium (50 to 1000 Enterprise (>1001 employees)
Corridor Company is an enterprise focused on continuously evolving with their Contract Management software products. They commercialize two products: Contracts 365, based on Office 365; and Contract management [.app] , based on SharePoint.
The first one is a Next Generation Contract Lifecycle Management application with support for all aspects of the contract management process (from creation to termination) as well as the ability to manage sophisticated obligations, supports documents and complex data relationships. It is available through Office 365.
On the other hand, the second one is a Contract Management Software and the most robust, flexible and user-friendly contract lifecycle management application in the market. It streamlines contract management with fully automated document generation, reporting, contract approvals, electronic signature integration and automated alerting of contract expirations, renewals and pending obligations.
Consequently, it provides a solution, which addresses the particular business requirements of the extensive customer base without the need for customizations. It is available on premises. Moreover, This software, in reality, provides three kinds of services: Supplier Management [.app] , Contract Management [.app] , and proposal Managemnet [.app] .
This is why it can be useful for procurement professionals, sales professionals, IT professionals, executive management, and general counsel and contract managers. Both products handle the same process giving the same capacities: contract creation, by automatically creating contracts and supporting documents, and starting a contract playbook and clause library that can be reached whenever the user wants it; contract negotiation, with a "contract dashboard" that displays the status; automated approvals and workflow that helps closing contracts faster; graphing and charting capabilities to easily analyze data; e-signature, which speeds up the process; central repository for search and reporting; obligation management, with obligations automatically converted into risks; and integration into salesforce.com and other systems, which allow users to directly look up data and link it to records.
You may like to read: Top Contract Lifecycle Management Software, Top Free Contract Management Software and How to Select the Best Contract Lifecycle Management Software for Your Business