Review
Corporater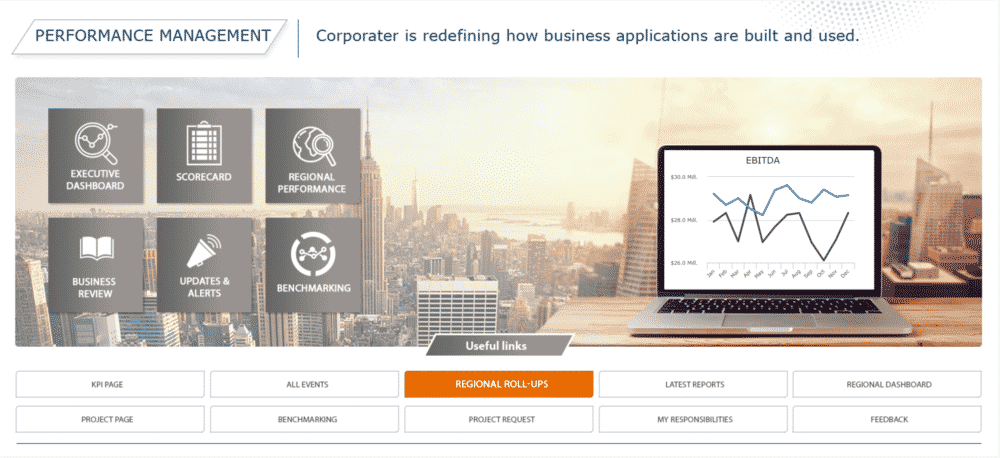 Overview
Corporater enables organizations of all types and sizes to be more effective, by aligning business units and processes, translating strategy into action and communicating the strategy across the organization and drive performance without dependency on IT support team or a software vendor. Corporater will not only help you answer critical business questions with data but will help you organize information in the context of your business goals and objectives.
Corporate Performance Management Software
•Balanced Scorecard Software
•Business Intelligence Software
•Compliance Management Software
•Dashboard Software
•KPI Tracking Software
•Data Visualization Software
•Project Portfolio Management Software
•Ad hoc Analysis
•Budget Management
•Budgeting & Forecasting
•Dashboard
•Data Visualization
•Key Performance Indicators
•Performance Metrics
•Portfolio Management
Subscription, Implementation, Training
•Accounting / CPA, Agriculture, Architecture, Auto Dealership, Banking & Financial Services, Construction / Contracting
Consulting, Distribution, Education, Energy & Utilities, Engineering, Food / Beverage, Government, Healthcare / Social Services, Hospitality / Gaming, Human Resources, Insurance, Maintenance / Field Service, Manufacturing, Marketing Services, Media & Communications, Non-Profit, Pharmaceuticals, Property Management, Public Sector, Real Estate
Retail, Software / Technology, Telecommunications, Travel, Transportation & Logistics, Sales & Marketing, Other
Support to users is offered via a proper ticketing system as nr. 1 as well as phone and email.
English, German, Arabic, Norwegian, Swedish, and in other languages through local partners
•Norway, Brazil , Germany , India , Romania , South Africa , Sweden , United Arab Emirates , United Kingdom ,United States
Cloud, SaaS, Web
Installed - Mac
Installed - Windows
What is best?
•Progress Tracking
•Project Planning
•Public Dashboards
•Requirements Management
•Resource Management
•Scorecards
•Status Tracking
•Strategic Planning
What are the benefits?
•Analytics for quicker 'informed decision making'
•Pro-active support for ensuring legal compliance as regards to statutory licences
•Facilitate tracking critical C&M processes
•Help achieve event-based / conditional reporting
Corporater is a global software company that empowers medium and large organizations to evaluate, manage, and continually improve business performance by providing a business management platform that adapts to client's unique business model, out of the box.
Corporater's Business Management Platform is a revolutionary platform that enables businesses to link multiple management disciplines, including compliance, risk, strategy, operations, quality, projects, processes, HR and finance within a single interface to provide the right business context to make the right decisions.
Using Corporater, you can create your own business management solutions for business dashboards, strategy management, KPI management, corporate performance management, BI & analytics, employee performance management, corporate reporting and more. Corporater's 250 ready-made business objects, out of the box, supports any full business framework – from data to business outcomes.
You may like to read: Top Enterprise Performance Management Software and How to Select the Best Enterprise Performance Management Software for Your Business
Corporater Features
Ad hoc Analysis
Ad hoc Query
Ad Hoc Reports
Benchmarking
Budget Management
Budgeting & Forecasting
Collaboration
Dashboard
Data Analysis
Data Source Integrations
Data Visualization
Feedback Management
Functions / Calculations
Goal Management
Key Performance Indicators
Performance Metrics
Portfolio Management
Profitability Analysis
Corporater Videos