Review
Corporater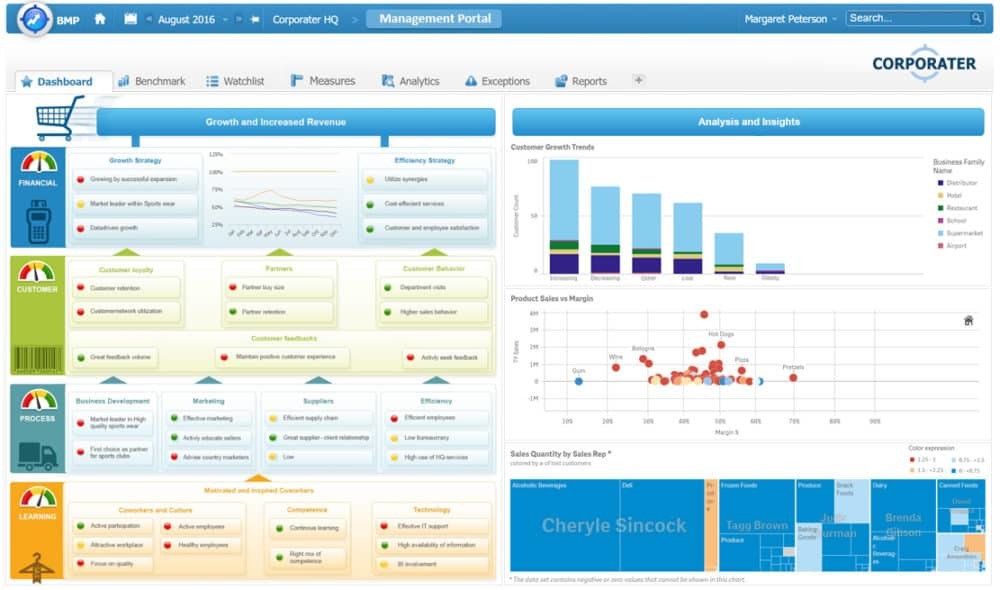 Overview
Corporater Business Intelligence is a software solution that transforms quantitative data analytics into an integrated management process. As a unified solution, customers have the full business context of their data, and can make data-driven insights actionable by placing them into execution.
Business Intelligence Software
Business Analytics Platform
Dashboard Software
Data Visualization Software
•Ad hoc analysis
•Ad hoc query
•Ad Hoc reports
•Benchmarking
•Dashboards and scorecards
•Data warehousing
•Data analysis
•Data visualization
•ETL
•Key performance indicators
•OLAP
•Performance metrics
•Predictive analytics
•Profitability analysis
•Query and report writer
•Strategic planning
•Trend / problem indicators
Subscription, Implementation, Training
•Accounting / CPA, Agriculture, Architecture, Auto Dealership, Banking & Financial Services, Construction / Contracting, Consulting, Distribution, Education, Energy & Utilities, Engineering, Food / Beverage, Government, Healthcare / Social Services, Hospitality / Gaming, Human Resources, Insurance, Maintenance / Field Service, Manufacturing, Marketing Services, Media & Communications, Non-Profit, Pharmaceuticals, Property Management, Public Sector, Real Estate, Retail, Software / Technology, Telecommunications, Travel, Transportation & Logistics, Sales & Marketing, Other
Support to users is offered via a proper ticketing system as nr. 1 as well as phone and email.
English, German, Arabic, Norwegian, Swedish, and in other languages through local partners
•Norway, Brazil, Germany, India, Romania, South Africa, Sweden, United Arab Emirates, United Kingdom, United States
Cloud, SaaS, Web
Installed - Mac
Installed – Windows
What is best?
• KPI reporting
• Advanced analytics
• Interactive benchmarking
• Data drill-down
• Dashboards and scorecards
• Data contextualization
• Comments, evaluation and assessments
What are the benefits?
• Quick transformation of standalone analytics into an integrated management process
• Automated and streamlined reporting
• End-to-end contextualization of data
• Pre-built navigation, period selection, and business context
Corporater is a global software company that empowers medium and large organizations to evaluate, manage, and continually improve business performance by providing a business management platform that adapts to client's unique business model, out of the box.
Corporater's Business Management Platform is a revolutionary platform that enables businesses to link multiple management disciplines, including compliance, risk, strategy, operations, quality, projects, processes, HR and finance within a single interface to provide the right business context to make the right decisions.
Using Corporater, you can create your own business management solutions for business dashboards, strategy management, KPI management, corporate performance management, BI & analytics, employee performance management, corporate reporting and more. Corporater's 250 ready-made business objects, out of the box, supports any full business framework – from data to business outcomes.
Corporater Features
Ad hoc analysis
Ad hoc query
Ad Hoc reports
Benchmarking
Dashboards and scorecards
Data warehousing
Data analysis
Data visualization
ETL
Key performance indicators
OLAP
Performance metrics
Corporater Videos