Review
ContractSafe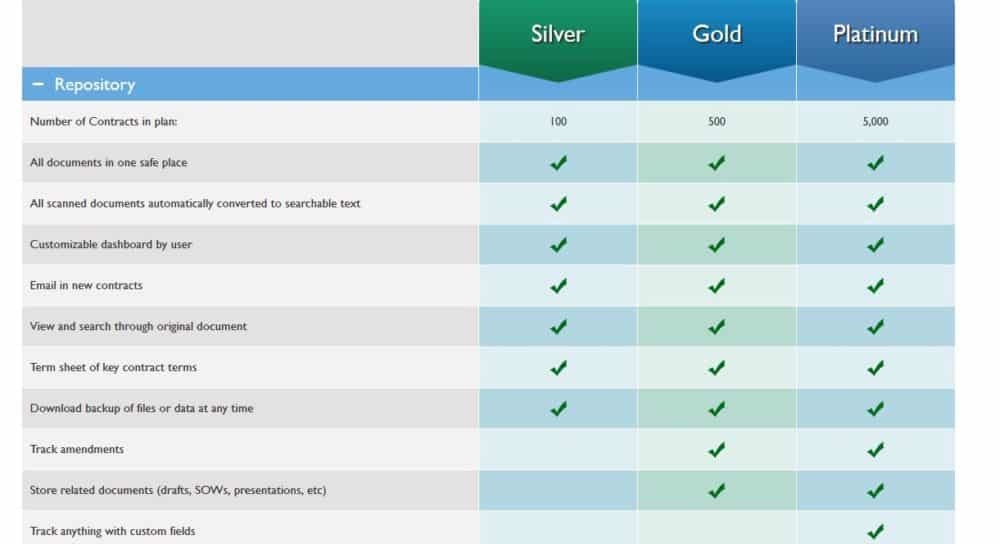 Overview
ContractSafe is an easy and affordable solution for your contract headaches. It makes your life easier with Contract Speed Searching and easy date reminders.
Contract Lifecycle Management Software
OCR
Google-like keyword searching
Easy tagging
Advanced search mode
Exporting to CSV
Amazon's AMS ISO 27001 Certified Data Centers with Encryption
Customization of the dashboard
Automated alerts
Unlimited users
Users customization for each user's access
Term sheet with key contract terms
Store related documents
Can request a demo
Can request a Free Trial
Free: Includes 10 contracts. Unlimited users.
$0
Silver: Includes 100 contracts. Unlimited users.
$49 monthly
Gold: Includes 500 contracts. Unlimited users.
$199 monthly
Platinum: Includes 5000 contracts. Unlimited users.
$499 monthly
Small (<50 employees), Medium (50 to 1000 Enterprise (>1001 employees)
ContractSafe is a cloud-based system aimed at storing and managing contracts, speeding search with auto-OCR, easing date reminders, and allowing multiple users with simple permissions. In that way, it streamlines the contract management.
Missing contract deadlines can be a disaster for any business's fiscal stability. ContractSafe alerts users anytime an important contractual deadline is approaching, so they are always prepared well in advance of renewal dates.
This happens because of the automated reminder emails and the view calendar of upcoming dates. Also, finding the right document in no time at all is the new reality. Users can also search any document from anywhere, even the scanned ones. All due to the OCR, Google-like keyword searching, easy tagging, advanced search mode, and sorting and exporting to CSV. Moreover, contracts are truly valuable.
This system takes it seriously as it houses data via Amazon's AMS ISO 27001 Certified Data Centers with Encryption, to keep dealings completely secure. Its permissioning capability means exactly the right person has access to the right document. IT allows unlimited users, who can download or share the contract by email anytime, and can be read-only users or edit users. In that way, users can collaborate safely.
Some additional features are the possibility of customization of the dashboard, always including a term sheet of key contract terms, and the possibility of storing related documents within the same system such as drafts, SOWs, or presentations.
You may like to read: Top Contract Lifecycle Management Software, Top Free Contract Management Software and How to Select the Best Contract Lifecycle Management Software for Your Business