Contextual Awareness with SAP HANA Vora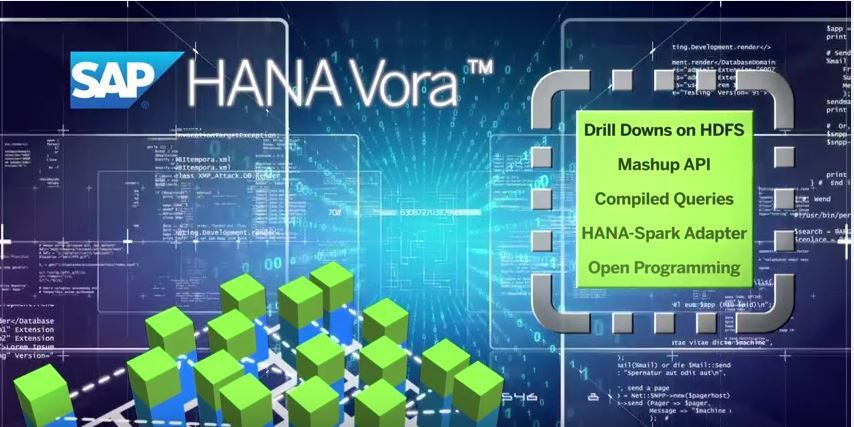 Contextual Awareness with SAP HANA Vora : SAP HANA Vora software, is a new in-memory computing innovation for Hadoop and new capabilities planned for SAP HANA Cloud Platform. These new offerings from SAP intend to help companies simplify how their businesses will run in the digital world. SAP HANA Vora is a new in-memory query engine that leverages and extends the Apache Spark execution framework to provide enriched interactive analytics on Hadoop. As companies take part in their digital transformation journey, they face complex hurdles in dealing with distributed Big Data everywhere, compounded by the lack of business process awareness across enterprise apps, analytics, Big Data and Internet of Things (IoT) sources.
"Our mission at SAP is to empower businesses to lead the digital transformation in their industry," said Quentin Clark, chief technology officer and member of the Global Managing Board of SAP SE. "In order to succeed in this digital transformation, companies need a platform that enables real-time business, delivers business agility, is able to scale and provides contextual awareness in a hyper-connected world. With the introduction of SAP HANA Vora and the planned new capabilities in SAP HANA Cloud Platform, we aim to enable our customers to become leaders in the digital economy."
SAP HANA Vora is planned to help benefit customers in various industries where highly interactive Big Data analytics in business process context is paramount, such as financial services, telecommunications, healthcare and manufacturing. Use case examples where SAP HANA Vora can potentially benefit customers include Mitigate risk and fraud by detecting new anomalies in financial transactions and customer history data. Optimize telecommunication bandwidth by analyzing traffic patterns to help avoid network bottlenecks and improve network quality of service (QoS). Deliver preventive maintenance and improve product re-call process by analyzing bill-of-material, services records and sensor data together.
SAP HANA Cloud Platform enables rapid application development and extensibility for Software as a Service (SaaS) as well as on-premise applications. SAP also plans to expand SAP HANA Cloud Platform's ability to power digital transformation, collaboration and application development while improving time to value with more pre-delivered business apps. Highlights include Enhanced digital connectivity, Enhanced collaboration, Enhanced mobile security, Enhanced mobile security, Pre-delivered applications and SAP hybris as a Service on SAP HANA Cloud Platform.
Companies can go from sensor to action with SAP HANA Cloud Platform for the IoT, generally available starting in late September. With the services, customers and partners can add device management, device data connectivity and bi-directional device data synchronization capabilities. Additionally, SAP API Management technology powers and manages secure, enterprise-grade API connections to any SAP or non-SAP application. Leveraging both with SAP HANA Cloud Platform, customers can connect edge devices to business action, build extended business networks and share digital assets.
New work patterns for the SAP Jam social software platform, available now, enable developers to build better, more collaborative apps quickly and easily with in-context information to get work done. Additionally, the new cloud trial of SAP HANA Cloud Platform gamification services aims to allow developers to quickly incorporate game concepts into new and existing applications with a workbench, software development kits (SDKs) and widgets.
With the addition of SAP Mobile Secure solutions and mobile app protection, enterprises can now deploy a more secure mobile environment. These capabilities help enterprises simplify the security and management of mobile devices and applications, including application management and remote locking, as well as wiping of managed devices. Additionally, customers can easily build, configure and distribute mobile apps to end-users in a streamlined workflow.
With the new cloud trial of the SAP Fiori user experience (UX), cloud edition, it is planned that users can leverage a set of SAP Fiori apps to connect with their own systems to try the new SAP Fiori UX or extend an existing SAP Fiori app or create a new SAP Fiori-like app.
SAP hybris as a Service on SAP HANA Cloud Platform (public beta) plans to offer a wide range of diverse business developer services, starting with a new set of services that augment and enhance the SAP hybris front office, which aims to include products such as the SAP hybris Commerce and SAP hybris Marketing solutions and others. SAP hybris as a Service on SAP HANA Cloud Platform is planned to be open to developers, solution providers, independent software vendors (ISVs) and IT organizations for building their own business services and then offering them to customers or other developers.