Comprehensive data mining platform for advanced analytics with Angoss Version 9.5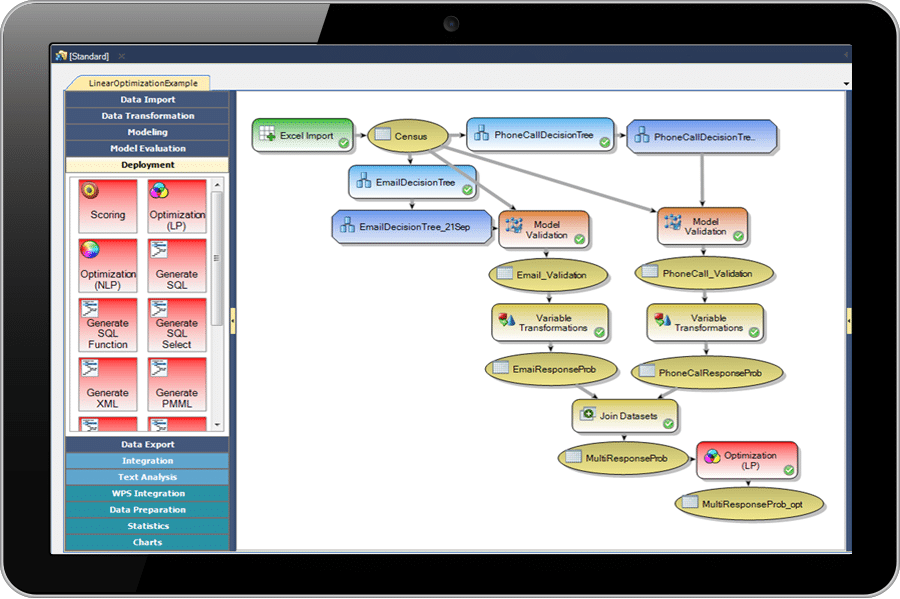 Comprehensive data mining platform for advanced analytics with Angoss Version 9.5 : Angoss version 9.5 Platform, includes enhancements to current KnowledgeSEEKER, KnowledgeSTUDIO, and KnowledgeREADER products, as well as the launch of two newly developed products, InsightOPTIMIZER and KnowledgeMANAGER. Version 9.5 product and feature additions will considerably augment the current Angoss Data Science Platform offering, and continue to improve the user experience. Extending Angoss' best-in-class segmentation and modeling interface to improve performance and increase business productivity, KnowledgeSEEKER, KnowledgeSTUDIO and KnowledgeREADER will now incorporate Ensemble Trees and redesigned Weight of Evidence (WOE) transformations that substantially enhance the automation of the scorecard building process. Additionally, in order to cater to a wider audience and increase collaboration between teams and departments, these products will also posses optional Python language integration capability.
In the new 9.5 Platform, Angoss extends its text analysis product, KnowledgeREADER, by providing text analytics users with new technology offered by the upgraded Lexalytics' Salience 6 Text Analytics Engine. Compared to Salience 5 featured in the 8.7 Platform, the Salience 6 Engine in KnowledgeREADER 9.5 supports new features such as extended multilingual support and enhanced Syntax Matrix technology that enables users to quickly and efficiently extract meaningful and actionable results from text. Furthermore, text analytics features are now fully supported by the Angoss workflow. The new Text Analysis palette includes the Text Analysis, Association Map, Text Analysis Comparison, and Trend Analysis nodes.
InsightOPTIMIZER and KnowledgeMANAGER, offer highly anticipated optimization and model management capabilities while still being easy to use and accessible to technical and business users alike.
InsightOPTIMIZER, a prescriptive analytic application, optimizes the business strategy development process. It will help users solve complex business problems by automating the decision-making process, determining the next strategic move, and eliminating the need to experiment with different deployment scenarios thereby minimizing loss and maximizing results. By optimizing sophisticated analytic models, subject to business constraints and rules, InsightOPTIMIZER allows companies to make the best use of limited resources.
KnowledgeMANAGER will enable users to store and easily access their Angoss models via a user-friendly web-based interface. This application will allow users to manage, compare, monitor and score models to ensure that only the best performing models move to production. To adhere to heightened regulatory requirements, KnowledgeMANAGER provides managers with access to streamlined reporting and comprehensive audit trails to reduce compliance risk and deliver smarter decisions.
"The addition of the above new products and feature enhancements to our product portfolio has strengthened our competitive positioning in the Predictive and Prescriptive Analytics market with the offering of a complete Data Science Platform." said Jim McGill, President and Chief Executive Officer, Angoss. "Our aim is to design solutions for both the technical and business users and truly provide products that are easy-to-use and deliver faster results than the competition."
You may also like to read, Predictive Analytics Free Software, Top Predictive Analytics Software, Predictive Analytics Software API, Top Free Data Mining Software, Top Data Mining Software,and Data Ingestion Tools.
Top Predictive Lead Scoring Software, Top Artificial Intelligence Platforms, Top Predictive Pricing Platforms,and Top Artificial Neural Network Software, and Customer Churn, Renew, Upsell, Cross Sell Software Tools
More Information on Predictive Analysis Process
For more information of predictive analytics process, please review the overview of each components in the predictive analytics process: data collection (data mining), data analysis, statistical analysis, predictive modeling and predictive model deployment.