Review
Cognistix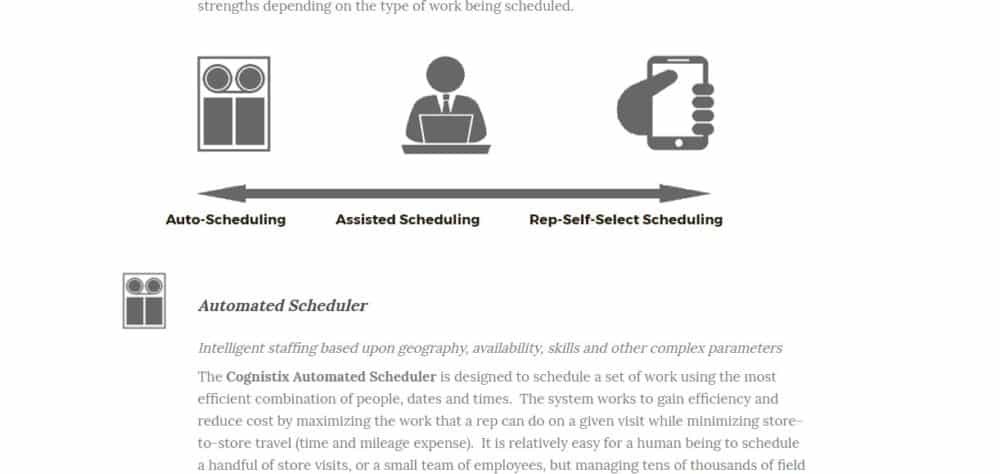 Overview
Cognistix is distributed workforce management solution that allows Merchandising Service Organizations (MSOs), Brands and Retailers to plan, schedule, execute and report on field marketing initiatives.Cognistix is designed to meet the fundamental challenges faced by distributed marketing field forces, large and small.
Workforce Management Software SMB, Workforce Management Software
•Workforce Management
Scheduling
•Reporting
•Field management
Technology
•Human resources
•Scheduling Tools
•Customer Dashboard
Small (<50 employees), Medium (50 to 1000 employees), Enterprise (>1001 employees)
What is best?
•Workforce Management
Scheduling
•Reporting
•Field management
Technology
•Human resources
•Scheduling Tools
•Customer Dashboard
What are the benefits?
•SQL Server Reporting Services
•Customer Reporting Portal
•Matrix Team Structure
•Compensation Management
•Open Accessibility
•Cloud-based Service
• iOS and Android Integration
Cognistix is a workforce management software designed for the retail industry to automate labor scheduling, improve retail execution and enhance field data collection for merchandising and experiential marketing.
Features include scheduling, reporting, field management, technology and human resources. The scheduling model is configured according to the specific needs with multiple tools each with different strengths, depending on the type of work being implemented. The Cognistix Automated uses algorithm to schedule staff based upon location, availability and skills depending on the requirements for a set of assignments with minimal effort.
The software is adaptable in that integrations can be easily developed to import or export schedule data to and from external systems. Cognistix Vision reports are linked to a customer dashboard that can be structured to display metrics in relation to specific projects. The employee and store-related data provides accurate information to both internal and external stakeholders. Progress reports are available with full access using Microsoft's SQL Server Reporting Services (SSRS).
The Customer Reporting Portal delivers real-time information regarding scheduling, progress and performance. The Matrix Team Structure function supports a team-based approach to territory management, allowing users to designate a field rep, or let the system offer the work based on proximity and skills. The software offers flexible Compensation management offers flexibility regarding in-store time, travel and admin, all being calculated on a per job basis. The cloud-based service which is is accessible via any standard Web browser as well as mobile apps for iOS and Android. The system also integrates with Oracle, ADP, Microsoft-XRM, and Trade Dimensions (TDLinx).
You may like to read: Top Workforce Management Software and How to Select the Best Workforce Management Software for Your Business