Cloud for Australian Open 2015 data driven experiences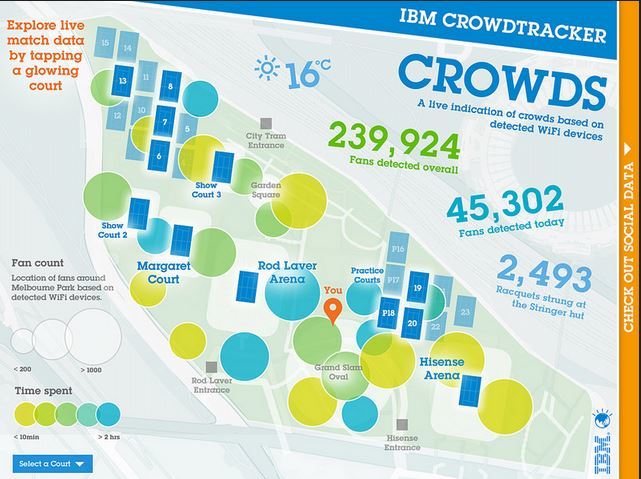 Cloud for Australian Open 2015 data driven experiences : New and expanded data driven experiences will enhance Australian Open 2015 for fans on site and around the world using IBM SlamTracker and IBM CrowdTracker. IBM SlamTracker has been redesigned with new point-by-point data visualizations, commentary and statistics that include player and ball movement data for the first time ever at the Australian Open. A favorite with the fans, SlamTracker continues to feature Keys to the Match, leveraging historical data to predict key strategies for each player in a match. SlamTracker captures and analyses real time data from matches, revealing insights into player performance that impact the ebb and flow of a match. This year, SlamTracker adds player and ball movement data to its analysis, creating a more robust picture of match and player dynamics. The newly designed interface features point-by-point data visualizations and commentary to make the analysis and insights more accessible to fans around the world.
IBM CrowdTracker, new for 2015, will provide fans with live match, venue and social information via ausopen.com and the official Australian Open apps. Displaying relevant content on a map of Melbourne Park, CrowdTracker enables fans to better plan their day and will provide an even more comprehensive digital experience for fans virtually. Using the GPS on their mobile devices, fans can see where they are on site and what's going on nearby They can see what are the most popular places to be on the grounds and they can click on individual courts to get the latest scores, stats, player details and insights. CrowdTracker helps fans follow the tournament and on site social buzz, providing fans with the latest Twitter stats, most popular Instagram spots and what is trending on social media.
IBM CrowdTracker and the Australian Open digital platforms (i.e., web, mobile and apps) are hosted on IBM cloud. The cloud, like the digital platforms it supports, combines analytics, mobile and social technologies to create and manage the most engaging and reliable experience for fans across platforms. "Last year we had over 17 million unique visitors to the website, and there was a 91% increase in mobile site views," said Samir Mahir, CIO, Tennis Australia. Using IBM's cloud provisioning technology Tennis Australia can scale and manage the computing capacity needed for players, officials, media and fans to get updates, view scores, watch videos, check timetables and engage with the tournament securely across digital platforms.
In addition to extending the tournament to fans online and on site, IBM technology is the foundation of an operations dashboard that Tennis Australia are piloting at the 2015 tournament. The new prototype solution will provide visual real time updates and insights and can be accessed via iPads and tablets.
"Assessing this type of information visually, on the go and as it happens will enable us to be more responsive, taking advantage of opportunities and improve our operations. This will be particularly useful when providing new services to our fans, or adjusting our inventory to provide more of a crowd-favorite product," said Mahir.
IBM technology drives the live scores that are broadcast around the world, along with other real-time data such as match statistics and the radar speed of serves. The official Australian Open iPhone app, Android app and mobile website are built and powered by IBM, providing live scores, radio, Twitter feeds, schedules and draws. IBM technology automatically assigns the computing power required by the Australian Open website based on real-time analytics of the tournament schedule, player popularity, historical data and social media conversations. IBM Watson Foundations (Big Data and analytics) technologies are used to forecast Internet traffic to the Australian Open digital platforms, with IBM Cloud Orchestrator software automatically increasing or decreasing capacity accordingly.