Review
ClearSlide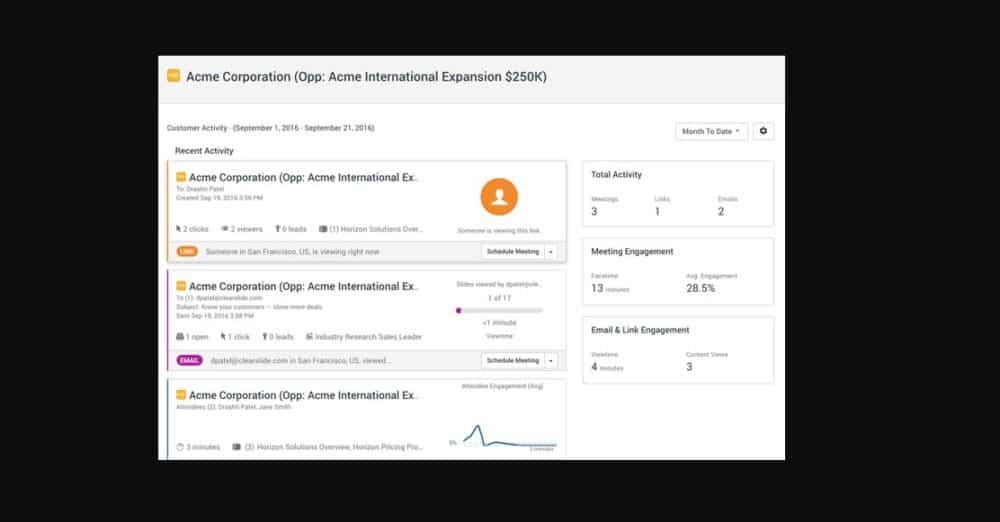 Overview
ClearSlide Sales Engagement Platforms help shorten sales cycles as reps are equipped with more accurate customer engagement data to effectively respond to prospect signals – regardless of the communications channel – throughout the sales cycle.
Sales Enablement Platform
•Content Management
•Integrated Communications
•Engagement Analytics
•CRM Integration
•Guided Selling
•PRO,$35 per user/month
•GROUP $65 per user/month
•ENTERPRISE $95per user/month
•ULTIMATE $125 per user/month
Small (<50 employees), Medium (50 to 1000 Enterprise (>1001 employees)
What is best?
•Content Management
•Integrated Communications
•Engagement Analytics
•CRM Integration
•Guided Selling
ClearSlide delivers the right content at the right time – in a way that's trackable, measurable, and actionable. ClearSlide's cloud content library is a single-source of truth for sales content, marketing collateral, tools, and customer-facing materials that sales teams can to draw from whether they are preparing for that big meeting, in the middle of a meeting, writing an email, or on the road.
Marketing and Sales Enablement teams can create and recommend marketing collateral by sales stage, customer-facing role, or industry – with recommended next-step interaction cards. Robust group-based permissions can be set by user, team, or group so sales reps only see the content that is meant for them. Detailed slide-by-slide content analytics show not just what content is being used, but also how customers respond during interactions. ClearSlide offers the most engaging and interactive meeting experience so every meeting is successful – without struggling with software downloads or latency.
ClearSlide Meetings include integrated audio conferencing, screen share, high-definition video, multimedia presentations, international and local dial-in numbers, and VoIP access. Users can create their own customized link to either meet instantly or schedule meetings in advance.
ClearSlide engagement dashboards provide powerful visualizations to support sales and marketing teams at every level. Integrate real-time engagement and activity data from ClearSlide with CRM data for a complete view of buyers and sales cycle progression – in easy-to-distill reports and dashboards. ClearSlide delivers dashboards, reporting, and real-time alerts to provide teams across the organization access to prospect and customer engagement analytics in any format.
Access aggregated data for benchmarking or drill into specifics down to the opportunity or specific activity. ClearSlide is your system of engagement to centralize interactions across communications channels (email, online presentations, and in-person meeting) from the sales, marketing, and services teams. ClearSlide mobile apps follow Microsoft Active Sync and other mail server protocols for encryption and security. Mobile apps are regularly tested by third-party security providers to ensure enterprise-grade reliability.
You may like to read: How to Select the Best Sales Enablement Platform for Your Business and Top Sales Enablement Platforms