Review
Clarifire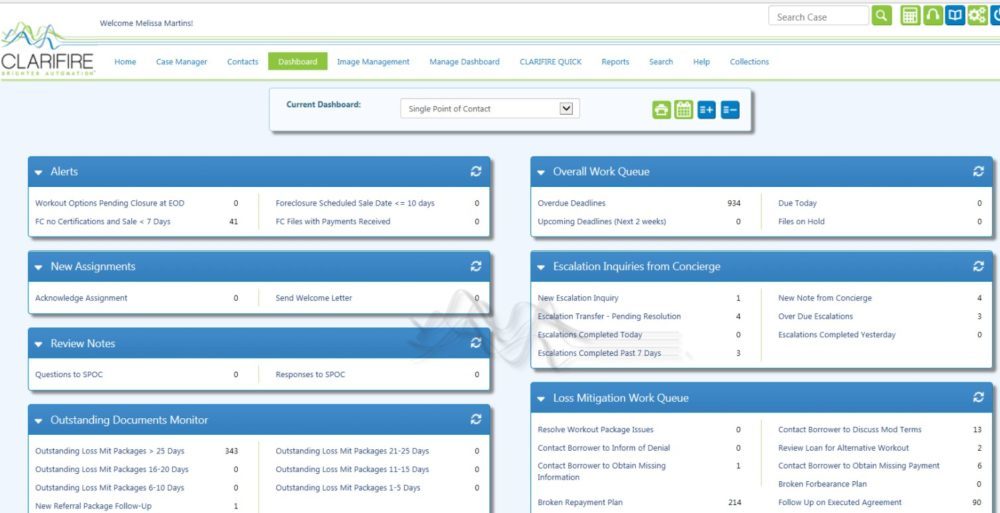 Overview
Clarifire combines two essential components in any desirable technology; a robust workflow engine with an easy to use business facing interface.
Workflow Automation Software
• Communication
• Reporting
• Easy to use and easy to change
• Starting from $5,000 Per month/user
Small (<50 employees), Medium (50 to 1000 Enterprise (>1001 employees)
What is best?
• Configurability
• Efficiency
• Compliance
• Speed to Market & Scalability
• Accessibility
• Innovation
What are the benefits?
•Business Rules, define and create your data elements
•Configurable Data Collectors (CDCs), execute your workflow from a click of a button
•Dashboards all from a single application platform
Clarifire is a configurable, web-based Software-as-a-Service (SaaS) which automates interactive business processes then presents them on dashboards for easy uses and modernizes the processes in ways that exponentially improve compliance, eliminate manual work, increase productivity, and provides speed to market to outpace change.
Clarifire has features such as business rules management, collaboration, data mapping, lifecycle management, process analysis, process capture, process change tracking, process mapping, process modeling & design and process simulation.
Clarifire is easy to use and universally applicable to any industry and is on one platform, one access point, and one view for all data, images, contacts, communications, and processes.
Clarifire also has the Clarifire Community which is the exciting new app that lets key players in the mortgage industry communicate in one secure place with its automated workflow, notes, and images where users finally have easy access to information about a loan workout 24/7 for servicers, investors, counselors, attorneys, mediators and real estate brokers and home owners with the loan-related documents downloadable, signed and uploaded and remains accessible in one place. Users can also see the status of and communicate about loans and properties on their own schedule with Clarifire Community's automated messaging and alerts which reveal missing documentation or stale calls where workflow is automatically launched making all parties accountable.
Clarifire's portal offers secure meeting place for exchange of information, documents, ideas, and training. Clarifire also has the business rule engine which enables document automation based on user actions. Clarifire provides automated mapping and integration interfaces through Microsoft .NET 3.0 and SOA.
You may like to read: Top Free, Premium & Open Source Workflow Automation Software and How to Select the Best Workflow Automation Software for Your Business