Review
Clarabridge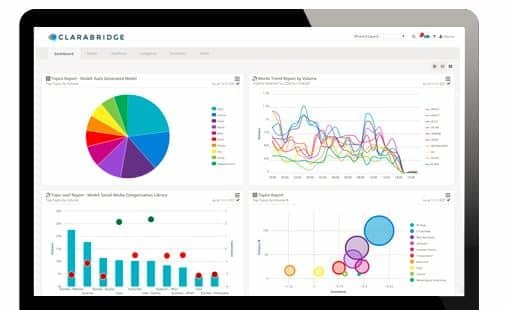 Overview
Clarabridge intelligence platform connects to all sources of customer feedback, analyzes the data in aggregate, and empowers your entire enterprise to act
Customer Experience Management, Text Analytics Software
•Customer Engagement
•Natural Language Processing
•Omni-Channel
•Sentiment Analysis
•Social Listening
•Social Media Analytics
Small (<50 employees), Medium (50 to 1000 Enterprise (>1000 employees)
What is best?
•Social Listening
•Social Media Analytics
•Social Media Management
•Social Media Reporting Tools
•Speech Analytics
•Surveys
•Text Analytics
What are the benefits?
•Listen to Your Customers
•Analyze the Intelligence
•Clarabridge enables real-time front-line response and business optimization
Clarabridge provides a SaaS (Software as a Service) solution for analyzing customer feedback data. This solution helps businesses understand the customer journey and is the foundation for customer experience management (CEM) programs.
The Clarabridge intelligence platform takes in data from any source, including social media, web chat, call center recordings, agent notes, surveys, online reviews, and many others. The platform is a centralized hub for all of this customer feedback data, allowing users to analyze it to drive business decisions.
Specifically, the technology performs sentiment analytics to detect emotion, context, and root causes, as well as predict future customer behaviors. The analysis is presented in dashboards and reports and can be used for driving action through customer engagement, case management, and alerts.