Review
Cisco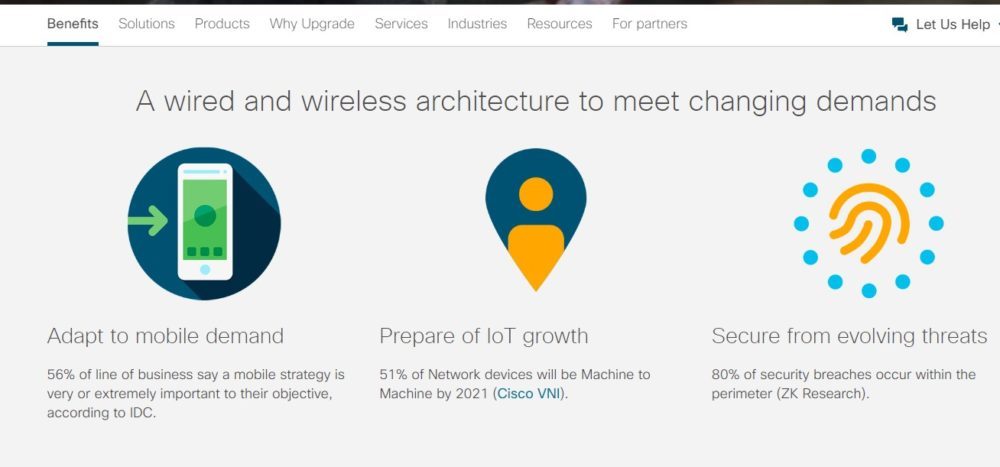 Overview
Cisco Wireless LAN Services help users transition to advanced mobility solutions by enhancing their wireless network's performance with operational insights, frequent evaluations, and digital transformation recommendations
LAN Access Infrastructure Wired & Wireless
• Real-time alerts to reduce downtime: Quickly respond to information by identifying and contacting the right plant managers
• High-bandwidth remote expert: Support video conferencing to efficiently connect with offsite experts for troubleshooting
• Network Management: Simplify management, automate processes, and use analytics to optimize performance
• Flexible Radio Assignment is one feature that automatically adjusts wireless network to meet higher capacity needs
• Mobility Express is a controller-less wireless network deployment that combines ease of deployment with affordability
• Cisco Beacon Point uses easy-to-deploy-and-manage virtual BLE beacons for superior wayfinding and proximity marketing
Small (<50 employees), Medium (50 to 1000 Enterprise (>1001 employees)
What is best?
• Network Management: Simplify management, automate processes, and use analytics to optimize performance
• Flexible Radio Assignment is one feature that automatically adjusts wireless network to meet higher capacity needs
• Mobility Express is a controller-less wireless network deployment that combines ease of deployment with affordability
• Cisco Beacon Point uses easy-to-deploy-and-manage virtual BLE beacons for superior wayfinding and proximity marketing
What are the benefits?
• Always-on connectivity: Provide residents with the connected services they demand
• More mobile device types: Empower the 60 percent of staff that use personal devices at work
• Secure access to the network: Easily deploy networks that are both open and highly secure
• Data loss prevention: Keep personal and government records safe and secure
Cisco Wireless LAN Services help users transition to advanced mobility solutions by enhancing their wireless network's performance with operational insights, frequent evaluations, and digital transformation recommendations. Get a security policy management platform that automates and enforces context-aware security access to network resources.
Identity Services Engine delivers superior user and device visibility to support enterprise mobility experiences and to control access. It shares data with integrated partner solutions to accelerate their capabilities to identify, mitigate, and remediate threats. It improves the reliability, security, and resiliency of the wireless network by identifying architectural gaps. Cisco Wireless LAN provides secure mobile access to business applications with a wireless infrastructure design that delivers high throughput and reliability.
Managed Enterprise for WLAN service capabilities follow a methodology that is based on the IT Infrastructure Library (ITIL). These capabilities span all day-2 operations, from proactive monitoring to incident and proactive problem management of the Cisco DNA ready infrastructure. Cisco has a team of experienced personnel that can support complex networks, minimize digital disruption, and maintain network uptime to enable a new wave of WLAN infrastructure excellence.
Cisco can deliver on the promise of creating a better user experience by tracking key customer insights. This service also provides design, implementation, validation, and testing of the wireless infrastructure. Additional value added capabilities such as analytics, and application configuration recommendations support a full featured high-density solution that will keep users connected in large venues such as airports, stadiums, and concerts. With Cisco, build dependability, performance, and security for sensitive Wi-Fi voice and video applications into the wireless LAN network design. Increase the accuracy, speed, and efficiency of the context-aware solution to locate users and track critical business assets on the network.