Cisco Digital Network Architecture to Accelerate Digital Transformation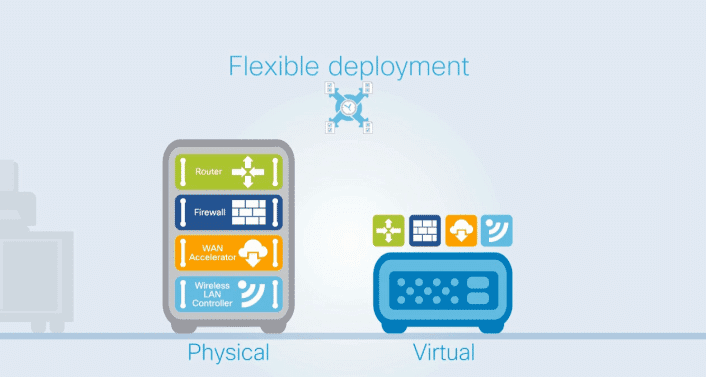 The path to digitization requires a digital network that evolves beyond just connectivity. This new network will enable business innovation, generate insights and create customer experiences. It will reduce cost and complexity with new orchestration and automation capabilities, while helping protect the business with an architecture designed for security.
At the same time that enterprises are addressing how to move to digitization, there has been tremendous innovation in networking, including software defined networking (SDN), network function virtualization (NFV), model-driven programming, overlay networks, open APIs, cloud management, orchestration, analytics and more. These innovations have great promise to improve operational efficiency and enable digital applications, yet adoption has been slow due to the difficulty in consuming these many new technologies. The market needs a solution that integrates the critical innovations in networking software -- virtualization, automation, analytics, cloud service management, and open and extensible programmability -- into an architecture that can achieve these promises in an integrated and easy to consume manner.
Cisco Digital Network Architecture (DNA), is an open, extensible and software driven architecture for digital business. Cisco® DNA complements Cisco's market leading, data center based Application Centric Infrastructure (ACI) technology by extending the policy driven approach and software strategy throughout the entire network: from campus to branch, wired to wireless, core to edge. Cisco DNA is delivered within the Cisco ONE Software family, enabling simplified software-based licensing, and helping with investment protection and flexibility.
Cisco DNA is built on five guiding principles: Virtualize everything to give organizations freedom of choice to run any service anywhere, independent of the underlying platform -- physical or virtual, on premise or in the cloud. Designed for automation to make networks and services on those networks easy to deploy, manage and maintain -- fundamentally changing the approach to network management. Pervasive analytics to provide insights on the operation of the network, IT infrastructure and the business -- information that only the network can provide. Service management delivered from the cloud to unify policy and orchestration across the network -- enabling the agility of cloud with the security and control of on premises solutions. Open, extensible and programmable at every layer -- Integrating Cisco and 3rd party technology, open API's and a developer platform, to support a rich ecosystem of network-enabled applications.
"The digital network is the platform for digital business," said Rob Soderbery, SVP for Enterprise Products and Solutions, Cisco. "Cisco DNA brings together virtualization, automation, analytics, cloud and programmability to build that platform. The acronym for the Digital Networking Architecture -- DNA -- isn't an accident. We're fundamentally changing the DNA of networking technology."