Review
Chuckwalla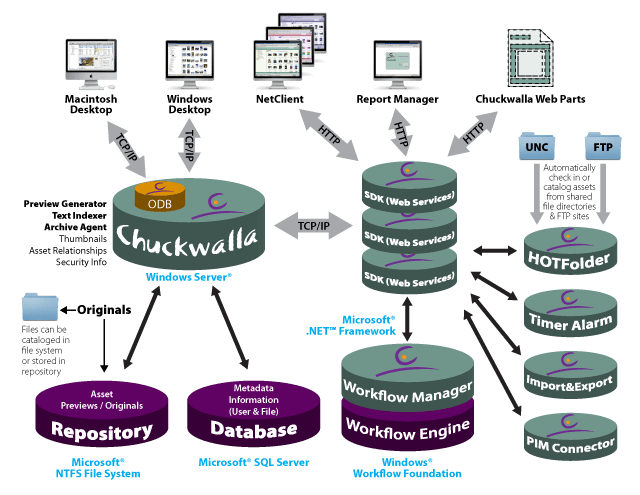 Overview
Chuckwalla v7 offers both flexibility and openness. As a result, it can be leveraged as an integrated application, as a layer within the IT infrastructure or a combination of both.
Digital Asset Management Software
Extensive File Format Support
Full Text Indexing
Metadata and Searching
Organization and Security
Ingestion, Trans-coding and Distribution
Small (<50 employees), Medium (50 to 1000 employees), Enterprise (>1001 employees)
Chuckwalla is a Digital Asset Management (DAM) developer. Its product is a Digital Asset Lifecycle Management system that allows users to control and automate complex workflows, spanning constituents across departments, buildings, organizations and geographies.
It allows parallel approval processes, re-routing back to previous workflow steps, or calls other applications to append information or check for updated metadata. Chuckwalla v7 Digital Asset Lifecycle Management comes in two editions: Cloud and Standard. The Cloud Edition is delivered via Software-as-a-Service (SaaS). It is designed for organizations of any size that have limited or unavailable internal IT infrastructure and resources.
The Standard Edition is installed in a customer's data center and can handle a large number of concurrent users. Chuckwalla supports migration from the Standard to the Cloud Edition and provides each client with a dedicated technical support resource. Chuckwalla v7 Digital Asset Lifecycle Management provides solutions to Marketing & Branding, Publishing and Courseware & Training fields.
It assists marketers to run campaigns targeting various audiences in diverse locations. It also allows them to quickly and easily find the quality digital assets being generated by agencies, creative partners and other divisions then effectively reuse them. For publishers the software facilitates the creation, production and distribution of publishing content while incorporating marketing into each of these processes.
Users are also able to repurpose and reuse, syndicate and license content to their advantage. Finally; for the creators of educational curricula Chuckwalla acts as a connection between the writers, editors, artists, graphic designers etc. and the educational institutions.
You may like to read: How to Select the Best Digital Asset Management Software for Your Business and Top Free & Premium Digital Asset Management Software