Checklist on Selecting the ERP Software for Your Business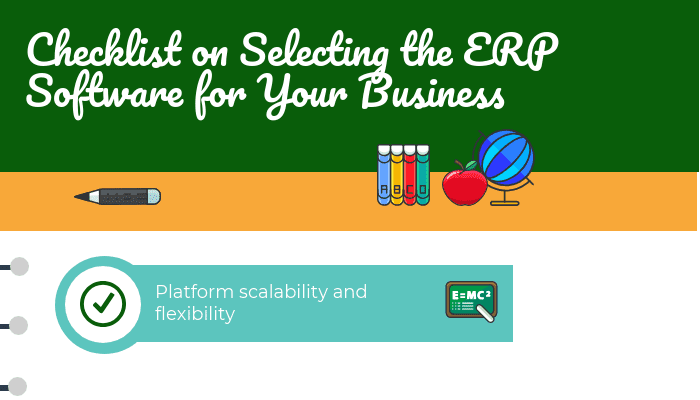 ERP systems are complex software packages that integrate information and business processes within and across functional areas of business. ERP systems are complex software packages that integrate information and business processes within and across functional areas of business. Enterprise resource planning systems or enterprise systems are software systems for business management, encompassing modules supporting functional areas such as planning, manufacturing, sales, marketing, distribution, accounting, financial, human resource management, project management, inventory management, service and maintenance, and transportation. The software combines the external and internal resources of an organization.
The system collects, stores, manages and interprets data from different business units through the use of a centralized database. The software is also used to automate back-office tasks as well as streamline cross-departmental workflows. The software facilitates transparent integration of modules, providing flow of information between all functions within the enterprise in a consistently visible manner.
Corporate computing with ERPs allows companies to implement a single integrated system by replacing or re-engineering their mostly incompatible legacy information systems A well-utilized system boosts efficiency, lowers cost as well as increases profitability.
Some of the benefits in using an ERP Software includes, the system combines different business units, it has a central database, therefore, ensuring there is no duplication of data and gives a single view of the actual status of the business. It is easy to use with a powerful reporting across the whole suit and the organization at large and the software is standard thus making training and use of ERP very straightforward.
With ERP software in place, an organization is able to share information across all business functions. Other stakeholders such as suppliers and customers are also linked with the organization. The main objective of implementing ERP software is to bring together the disparate functions of an organization into a single system environment thus promoting efficiency in the operation of an organization.
Checklist on selecting the ERP software for Your Business?
Selecting an ERP system can be challenging for a company. This is because the systems are huge and complex. As such, it is important for an organization to look for a system that can easily fit with their needs without compromising with its functionalities.
The system tends to have a variety of settings which tends to modify the system operation. Thus, it is important to conduct a thorough analysis of your business in order to identify the specific problems that are affecting your business operation. Here is a compilation of a number of checklists to consider before settling on a suitable system for your business.
Platform scalability and flexibility: The current needs of a business should not be the only determinant of a kind of software to procure. The business is not static thus you should look for a system that can be scaled to support your future needs. Put into consideration the other features your business might need as it expands.
What level of flexibility can the system support? Can it easily adapt to the changing business needs or rather can the system be customized to suit your unique needs? If there are limitations on the extent the system can be customized, consider looking for a different system that can easily fit your needs.
Mobile with emerging trends/ technology: New trends keep on emerging in the market. Advancement in technology has lead to the development of new apps that can be supported by mobile devices. As such most employees prefer using their own devices at the workplace, a practice that is also being encouraged in many organizations. This has seen many people accessing workflows and data through their own mobile devices. Allowing employees to work from wherever and at whatever time boosts productivity.
The system should have a dashboard that is mobile friendly and accessible from anywhere at any time. This makes it very convenient especially for field officers as they can enter data while still in the field. Data error is thus minimized. It also promotes efficiency.
Go for a system that can be easily integrated with external systems and new technology.
Simple to use and contextualize: The system should be able to customize each user experience so as to ensure only the relevant information is presented for simplicity sake. Organizations operating from different countries also require a contextualized system in order to access the relevant data.
A good ERP system should be able to provide the right data to the right people at the right time. Also, consider if it is possible to reuse the existing functionality.
Easy to upgrade and update: The system should be easy to upgrade without interfering with the normal operation of the business. Security is paramount thus you should ensure the available updates are well secured and easy to implement.
Software that involves technical procedures and processes during upgrade poses a threat to a company in that you must have a technical person to carry out the procedure. This might also affect the normal flow of operation in case the technical person is not available.
Comprehensive functionality: If an organization is adopting the two-tire strategy, there is need to consider the functionality the tier-two solution delivers. The solution should offer complete, accounting, finance, both front and back-office functionality and other support that are similar to tier-one application out of the box.
Comprehensive functionality makes the solution easily adaptable to a specific organization and also allows the organization to avoid heavy customization. Consolidation of data from different business units into a single folder structure allows organization easily roll out data in real time for rapid reporting.
Adaptability, Localization: Besides having a comprehensive functionality, it should also be easily configurable so that the company can customize it to meet the specific needs. The solution should be able to integrate seamlessly with the existing IT environment, including support for existing database or operating system.
Can the software be localized to meet the needs of different countries in case the organization is operating globally? Confirm if the system has cloud-based functionality in order to facilitate its installation across the globe. This would come in handy for organizations that are operating in different regions.
A good system should be easily customized to fit the specific needs and features especially for companies operating from different countries.  Confirm if the system can support international operations like multi-language, multi-currency, multi-legislation, and multi-company structures.
Low cost: The cost of a tier-2 solution should fit into an organization's budget over the entire period of ownership. Consider a solution that is robust and can be deployed rapidly. You should aim at reducing overall support cost by having a system that can be easily maintained.
A system built on service-oriented architecture can be easily upgraded and customized.  Having a simple and secure update procedure helps an organization take advantage of software improvements.
Flexibility: Evaluate the ease of operating the new system in your organization. Is it adaptable to the changing company and market need? The software should be able to incorporate the emerging trends in the business world as new ideas keep on cropping up.
Real-time collaboration and communication tool: Confirm if the system can support communication and collaboration in real time. Does it have tools or features that can facilitate online chats, video conferencing in real time? Instant communication is very vital in an organization and it tends to boost productivity and efficiency. Look for a system that has features that can support online communication.
Fit: A good fit between the system functionality and business's requirement is important. When selecting a system, you should be guided by its usefulness, not recognisability. Organizations should review the fit and functionality, including industry-specific features and functions before settling on a particular ERP.
Confirm if the system has features that can support different actions occurring at the same time without waiting for each other. For instance, can you be able to take notes, and share documents while scheduling an important meeting all at once?
Define requirements: Before selecting ERP software for your business, you need to define the requirement the system needs to meet. Carry out a thorough homework in your organization and identify the existing gaps and any other need that should be addressed. Check on the existing features that are consumed by the end-users and analyze the information collected.
You need to study your business so as to identify the particular needs that should be addressed by the system. Failure to understand your business well and the specific requirements for the product may lead to a selection that addresses the wrong issues.
End to End Enterprise System with Self Service: What do you stand to gain from the system?  ERP solutions should be a one-stop shop for most businesses management functions. Look for a single end-to-end system since they are more cost-effective in the short-term.  Also, it requires less money spent on development and interfacing between disparate systems.
Does the system have self –service features? Can the users be able to interact with the system independently and at their own convenience? Check whether the system can allow the users to modify, create, and save their own reports.
Reporting and analytics: Modern businesses thrive on analytics. As such, companies are looking for a system that has built-in business intelligence, analytics, and reporting.  This helps the companies stay on top of business trends, performance, and KPIs.
If you want your business to be competitive in the emerging market, then it is advisable to settle for a system that has all the built-in functionalities. Confirm if the system comes with an embedded or an external analytic solution.
Hosting: What is the size of your company and how strong is your internet connectivity? Do you have an on-site IT support or are you planning to outsource?  An organization should asses the pros and cons of having either an on-premise system or cloud-based system. The organization's resources, size, and the kind of data sensitivity determines the choice of system hosting.
Different companies have different needs and as such what works for one company does not necessarily work for another company.
Here are the trending and the top rated Top ERP Software for SMB for you to consider in your selection process:
Top ERP Software for SMB
PAT Index™