Review
Chartbeat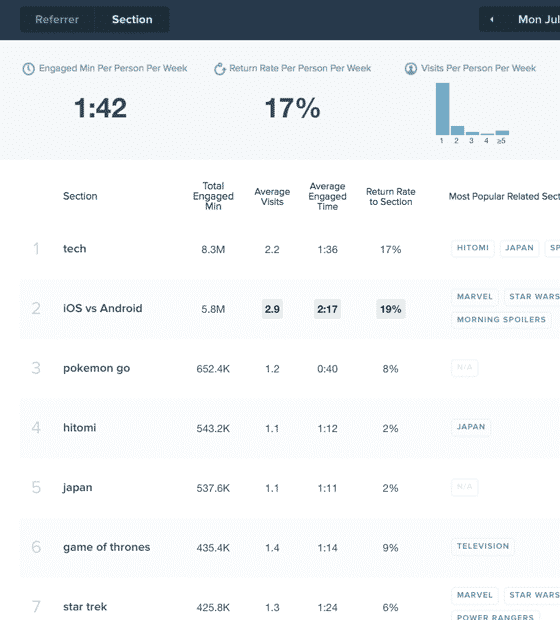 Overview
Chartbeat helps content creators to pique and keep their audience's attention. It is most well known for the real-time analytics that help 80% of the top publishers in the US and ~50,000 media sites in over 60 countries around the world.
Business Intelligence Software
Multiplatform tracking
Page and headline optimization
Historical reporting.
Small (<50 employees), Medium (50 to 1000 Enterprise (>1001 employees)
Chartbeat provides with the complete guide to write and test the most eye catching headlines. Chartbeat gives the opportunity to create the best headlines, it also enables one to know instantly when the content is being seen the most and who is getting attracted towards it.
Chartbeat tracks and measures second by second attention of visitors. It also adapts and capitalizes on the content that is unreachable to the audience and it drives the interested readers to the most engaging information again and again. To promote the content one needs to follow a few steps: Multiplatform tracking: to provide the right content, one needs to know the audience.
With the editorial dashboard, frontline teams across the world know what is grabbing the attention of the audience the most and drive them towards it so they keep coming back. With the help of Chartbeat Labs there are many new features to display the content.Page and headline optimization: once one knows what the audience wants, drive them towards it. Two main features, the Heads-up Display and Headline Testing bring out the right headlines in front of the right audience for them to see.
Historical reporting: understand the content in a better way to improve it further. The daily content perspective enables to keep a track of day-to-day performance recaps. The weekly audience perspective does the same but on a larger time scale. Install Chartbeat today to make the content look and sound better and more compatible with what the audience wants to see. Chartbeat offers all the cool features that are needed to create headlines that are actually eye catching and informative.