Review
Central Connecticut State University,Master of Science Data Mining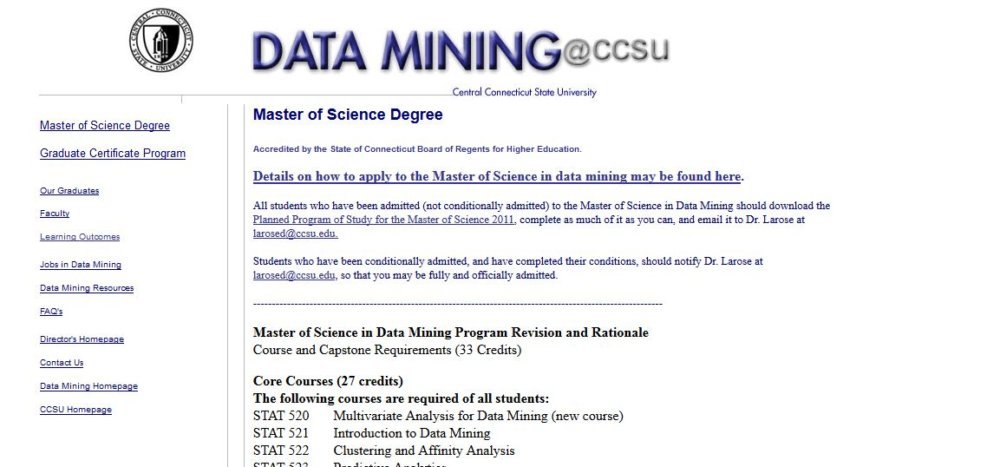 Overview
Central Connecticut State university, Master of Science in Data Mining is a proficient program aimed at teaching its students statistical methodology, machine learning and business trends necessary to be data miners. A deft Curriculum has been put in place to ensure credible prospects.
•2 Elective Courses
•Predictive Analytics
•Genomics and Microarray
•Web Mining
Master of Science in Data Mining
Central Connecticut State University,Master of Science Data Mining
2 semesters – depends on the no. of hours accomplished
What is best?
•Predictive Analytics
•Genomics and Microarray
•Web Mining
What are the benefits?
• Exemplary online tutorials
• Statsoft e-textbooks available
• Affordable program
• Learn skillful interpretation of data
• Hands-on experience using most powerful and widespread software
• Scholarships are available for qualified students
• International students do NOT require to submit a declaration of finance form
The Master of Science in Data Mining course that is offered by Central Connecticut State University will provide its students the ability to approach data mining as a process, by demonstrating competency in the use of CRISP-DM, the Cross-Industry Standard Process f or Data Mining, including the business understanding phase, the data understanding phase, the expl or at or y data analysis phase, the modeling phase, the evaluation phase, and the deployment phase. Students will be proficient with leading data mining software, including WEKA, Clementine by SPSS, and the R language as well. Students of Central Connecticut State University taking up Data Mining course will be able to understand and apply a wide range of clustering, estimation, prediction, and classification algorithms, including k-means clustering, BIRCH clustering, Kohonen clustering, classification and regression trees, the C4.5 algorithm, logistic Regression, k-nearest neighbor, multiple regression, and neural networks. Aside from this, they will also understand and apply the most current data mining techniques and applications, such as text mining, mining genomics data, and other current issues.For incoming students, they must hold a bachelors degree from a regionally accredited institution of higher education. The undergraduate record must demonstrate clear evidence of ability to undertake and pursue studies in a graduate field successfully. Applicants to the Graduate Certificate program in Data Mining program are expected to have completed, or be in the process of completing, a second semester course in undergraduate or graduate statistics. Students may be admitted on condition that they complete these prerequisite courses with a grade of B or better. Elective Courses are Web Mining, Data Mining for Genomics and Proteomics, Text Mining and Current Issues in Data Mining.