Review
Casual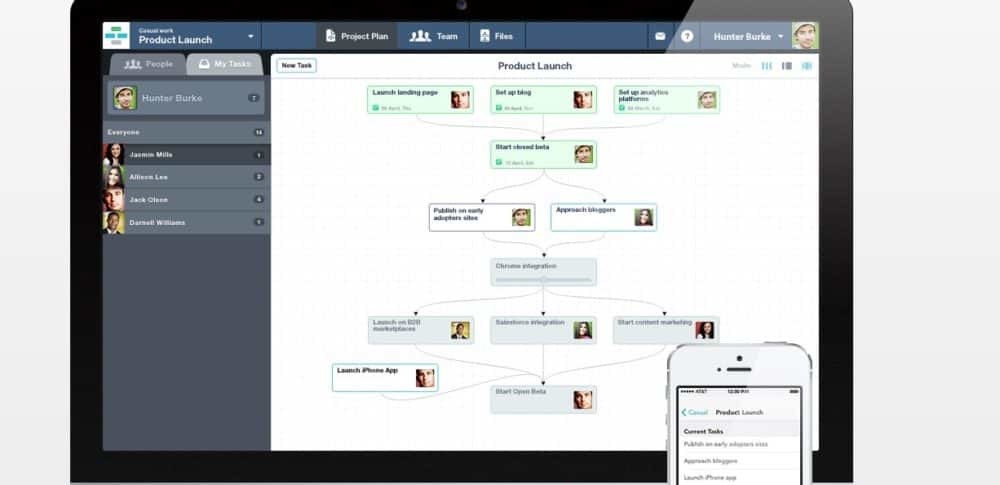 Overview
Casual is an online project management tool that differs from the rest. It helps teams plan and execute projects as simple workflows online.
Project Management Software
• Templates
• Startup Toolkit
• Project Сharter Template
• Project Proposal Template
• Project Brief Template
• Project Coordinator Toolkit
• Personal - $ 7/month paid annually
• Group - $ 21/month paid annually
• Team - $ 35/month paid annually
• Department - $ 70/month paid annually
• Enterprise - $ 133/month paid annually
Small (<50 employees), Medium (50 to 1000 Enterprise (>1001 employees)
What is best?
• Templates
• Startup Toolkit
• Project Сharter Template
• Project Proposal Template
• Project Brief Template
What are the benefits?
• Organize tasks & ideas the way they look in your mind
• Visual Project management
• Visual Task management
Casual is a cloud-based project management tool with a new visual approach for small and growing project teams, non-project managers and anyone who manages similar and repeatable projects which helps users plan and execute tasks and projects as visual workflows, just the way people normally organize ideas in their mind and allows users and their team to build and execute projects quickly and easily. Casual provides features such as create project plans, create tasks, assign tasks to team mates, define project timelines, set project workflows, add people and teams, upload and share files, send messages, create project milestones, create sub-processes, list of task view, board and graph view, color-coded project chart, team notifications of tasks, set deadlines, see user details, invite new users, mobile app, re-use processes for new projects and visual project summaries.
Casual applies causal relationships to tasks which helps define the order of execution for each task in a project to plan projects that involve multiple people and departments by firstly creating project milestones, then defining the workflow and order in which these tasks need to be completed and assigned with their due dates.
Casual allows users to define more detailed processes within each task, called sub-processes in the milestone where workflows can also be defined for these sub-processes so the tasks can be viewed as a list or as a visual graph and when the project is started, each team member receives their list of tasks in their order of execution then all projects are saved for a visual understanding of project steps and processes, and these processes can be used again for planning future projects.
You may like to read: Free & Top Task Management Software, Top Retail Task Management Software and How to Select the Best Task Management Software for Your Business