Review
Caspio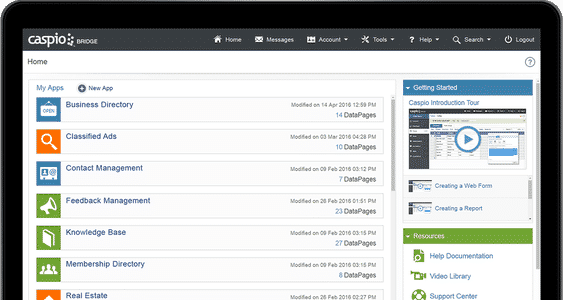 Overview
Caspio Enterprise offers a mission-critical platform with enterprise-grade features, VIP support, and hands-on strategic services for custom business applications.
Rapid Application Development Platform
Easy launching
Easy integration
Easy extendibility
Secure
Reliable
Users can start with a free trial, then choose a plan that's right for them.
Small (<50 employees), Medium (50 to 1000 Enterprise (>1001 employees)
Caspio is a cloud platform used to create online database applications fast and without coding. The platform earns the highest scores possible in self-service enablement, pricing strategy, and large number of customers.Users can now create forms, reports, and business applications without programming. They can seize business opportunities, streamline processes, and bring their ideas to life like never before.It allows IT department focus on their higher priority tasks and let business professionals who are the closest to the problems create solutions on their own.It enables companies to reduce their development and maintenance costs by at least 50%. The software allows enterprises to use a central cloud database accessible from anywhere, create reports and dashboards easily, and use the real-time information to make smart decisions.
The program allows users to create database applications without any coding or development skills. Its step-by-step wizards guide users through the creation of every part of their application with easy to understand instructions. Caspio includes the entire stack needed for creating and operating business applications, including the database, which is at the core of every application.Whether the application is used by a few people or by thousands, Caspio provides user management capabilities with built-in automation and flexible customization.
Caspio allows applications to work wherever it is deploy, on any web site, CMS, portal, or directly from Caspio.With Caspio, enterprises can create custom database-driven forms of any level of complexity. Caspio-powered forms are feature-rich and highly versatile.Additionally, it allows users to maximize an application's value by incorporating other services or internal systems into their apps. Caspio has built-in integration with many products and services, and custom integration is possible with well-established methods.