Business Agility using TIBCO ActiveMatrix BPM with BPM Analytics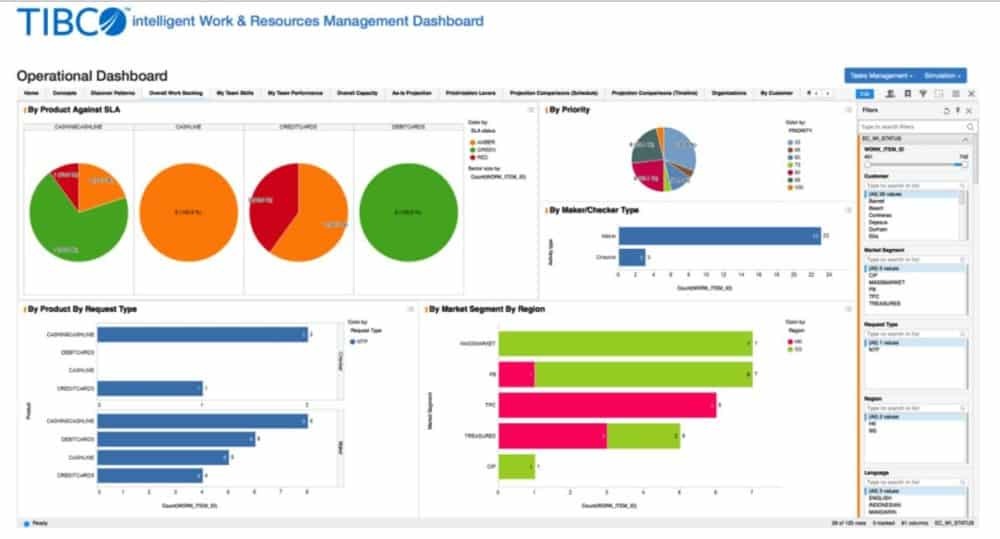 Business Agility using TIBCO ActiveMatrix BPM with BPM Analytics: TIBCO ActiveMatrix BPM is a model driven business process platform based on TIBCO's messaging and integration infrastructure. ActiveMatrix BPM provides the complete spectrum of business process styles from human workflows to case management as well as unprecedented scalability and performance to handle all of an enterprise's business process needs. ActiveMatrix BPM also allows businesses to compose their business processes for change rather than follow a prescriptive, predesigned path. It also provides BPM Analytics with TIBCO JasperReports for ActiveMatrix BPM, providing out of the box and self service reporting dashboards, enhanced case management capabilities to support the rapid adaptation of processes and applications to quickly respond to business needs, and various ease of use capabilities.
TIBCO Software is a global leader in infrastructure and business intelligence software. TIBCO uniquely delivers the Two-Second Advantage- the ability to capture the right information at the right time and act on it preemptively for a competitive advantage in optimizing inventory, cross-selling products, or averting crisis before it happens.
"To stay competitive in today's era of unprecedented change and data availability, organizations need to make large amounts of complex data consumable and provide the ability to act on what is happening right now. This change will require organizations to do more than just automate what they have always been doing," said Rachel Brennan, director, business process management product marketing, TIBCO. "ActiveMatrix BPM 3.1 provides flexible processes that can react to the right business events in real time. Rather than follow a prescriptive predesigned path, business processes can be proactively designed to change and enable people and systems to compose the best possible process on-the-fly for the situation and information at hand."
Some of the capabilities in ActiveMatrix BPM 3.1inlcudes Enhanced Case Management, Expanded BPM Analytics and Ease of Consumption and Use.
Enhanced Case Management: ActiveMatrix BPM 3.1 includes new features and capabilities to support the different styles of case management. Case States and Actions to provide context and agility to data-centric case management solutions, Ad Hoc Activities for ability to adjust processes on the spot without introducing complexity or fragility and Case Folders and Document Operations for extending business objects with associated documents or media.
Expanded BPM Analytics: ActiveMatrix BPM 3.1 introduces JasperReports for ActiveMatrix BPM to provide out-of-the-box adaptable dashboards and self-service reporting for all styles of business processes and their ever-changing data.
Ease of Consumption and Use: ActiveMatrix BPM 3.1 includes new features and capabilities to increase the ease of use and consumption for both IT and business users. The new self-service reporting and enhanced case management capabilities provide business agility and promote business independence from IT. At the same time, IT users and process designers can now utilize a range of more powerful tools such as Live Development to allow for iterative design and testing without rebuilding or redeploying, automated TIBCO iProcess to ActiveMatrix BPM Model Conversion to significantly accelerate the transformation of legacy processes to TIBCO's flagship business process platform, and lightweight Developer Installations to reduce the overall installation requirements and footprint to utilized commodity desktop hardware.
TIBCO