Review
Brightidea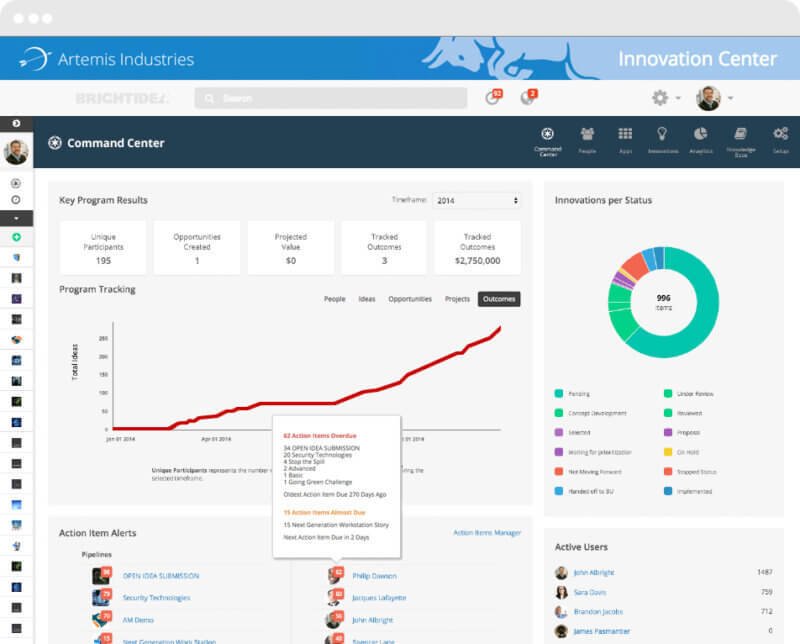 Overview
Pre-built dashboards give innovation program leaders multi-dimensional insights to gauge relative performance across innovation initiatives.
•Initiate Employee Engagement
•Solve a Specific Problem
•Engagement Metrics
•Mobile Collaboration
•Transparent Evaluations
•Drag-and-Drop
•Workflow
•ROI Tracking
Small (<50 employees), Medium (50 to 1000 Enterprise (>1000 employees)
https://www.brightidea.com/
What is best?
•Mobile Collaboration
•Summary Dashboard
•Pipeline Management
•Outcomes Tracking
•Customizable Microsite
•Expert Team Builder
•Participation Metrics
What are the benefits?
•Pipeline Management
•Project-Team Support
•Financial(s) Tracking
•Team-Level Submissions
•Real-Time Notifications
•Rapid Research Deployment
Brightidea is enterprise software that provides innovation program management. It allows users to manage all employee engagements, crowd sourcing programs and track performances all in one place. It provides a people module that can be used to engage the right experts at the right time to get the best results, this is done by tracking their credentials and certificates and also by importing participants from various platforms.
The innovations module can be used to drive and keep track of multiple innovation processes and insure each process is working at its best. Employees are encouraged to submit their ideas on the idea submissions board and then the outcomes of these ideas are explored to test their feasibility. Crowd sourcing, design thinking and hackathon apps allow users to set up, compare and track various initiatives.
Managers can go through an employee's idea, track the employee and then work on implementing the idea with them. Brightidea has pre build dashboards that allow managers to have deep insight to get a good view of performances to improve services and it also allows them to keep track of various projects and tasks thus leading to higher efficiency.
Users are provided program level assets, templates and resources to ensure the best utilization of their potential. Apps like the design research app on the software design research workflows that collect data, indentify themes and develop challenges. Brightidea software helps users to identify, set up and compare various initiatives to see which ones are yielding the highest investments and so where to focus efforts.
You may like to review: Top Idea & Innovation Management Software