Review
BravoAdvantage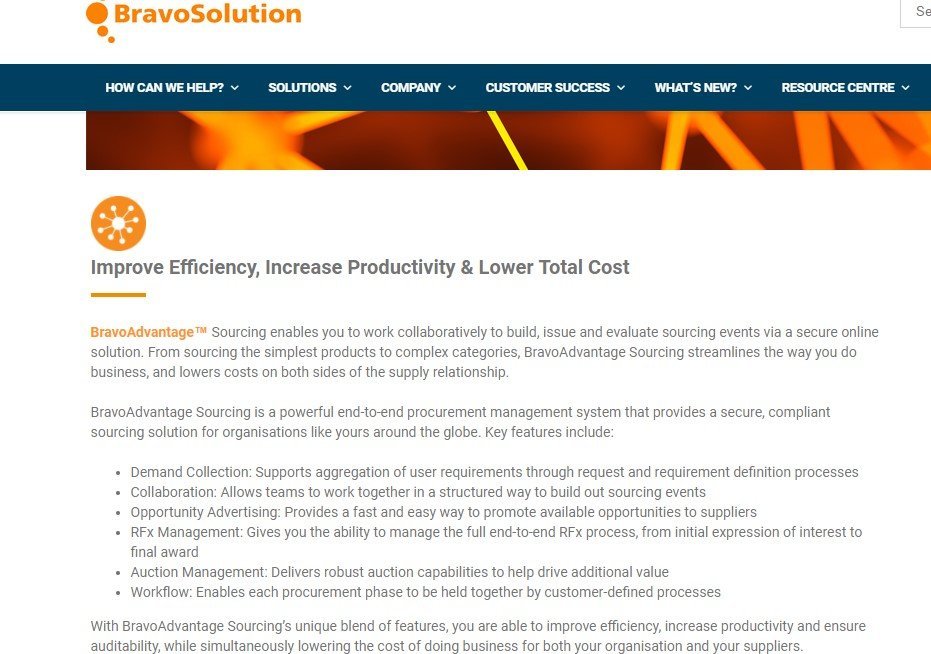 Overview
BravoSolution's strategic procurement platform, unleashes the power of procurement via enhanced Procure-to-Pay (P2P) and Savings Management functionality
Contract Lifecycle Management Software
Spend Analysis
SourcingPlus
Contract Lifecycle Management
Supplier Value Management
Procurement
Invoicing
Savings Management
Contact for pricing information.
Small (<50 employees), Medium (50 to 1000 employees), Enterprise (>1001 employees)
BravoAdvantage is the strategic procurement platform that enables organizations to generate more value, influence innovation and reduce risk. It is powered by a unique supplier-centered approach that integrates supplier lifetime value throughout the entire procurement process, BravoAdvantage provides the visibility, insight and transparency that is required to power and improve user's procurement initiatives and decisions.
With the BravoAdvantage offering, BravoSolution continues to strengthen a global reputation influencing innovation in strategic procurement and supply management helping organizations propel business growth and maximize competitive advantage. Users will be able to manage costs, compliance and risk.
Aggregate spend data from multiple disparate systems; cleanse and classify data into a common classification structure; and perform multi-dimensional analysis—which enables users to identify saving opportunities and correct compliance breakdowns to ensure that users realize their negotiated savings goals.
With BravoAdvantage's Streamline processes, user's can reduce cycle times and achieve valuable business outcomes. Collaborate to create, issue and evaluate sourcing events via a secure online solution, moving seamlessly from RFx direct to eAuction to maximize business relationships and lower costs throughout the user's supply chain.
Extend sourcing to maximize complex bidding opportunities by leveraging analytical capabilities against an expanded set of supplier data to easily manage the many variables associated with high-spend, strategic categories with complex requirements that involve a large number of stakeholders. Go beyond basic supplier scorecards. Gain a comprehensive view of the organization's suppliers across the entire procurement process, making the procurement process more efficient and effective. Clearly see summary supplier interactions, understand interactions in process and create fact-based improvement plans for continuous supplier development.
You may like to read: Top Contract Lifecycle Management Software, Top Free Contract Management Software and How to Select the Best Contract Lifecycle Management Software for Your Business