Brandwatch Signals for Automated Intelligence Alerts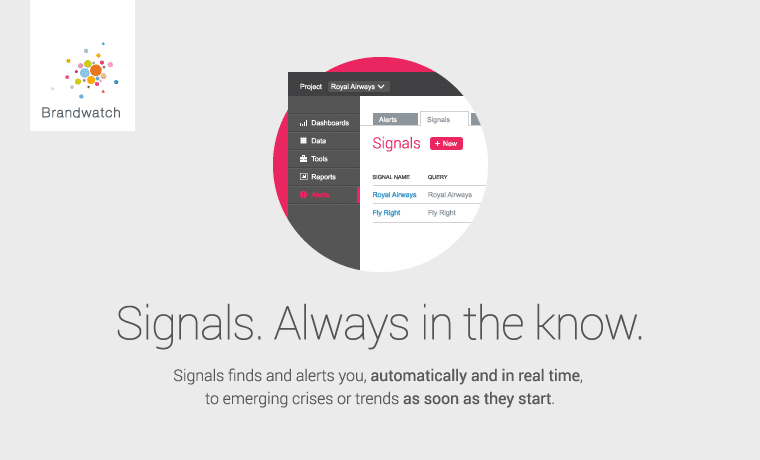 Brandwatch Signals for Automated Intelligence Alerts : Brandwatch, Signals, is an automatic intelligence alerts system of its kind in the social data monitoring industry. Signals uses real-time discovery technology to notify business executives, from the C-suite to the PR team, about significant changes in streaming social data so they can make informed marketing, messaging and security operations decisions. Brandwatch is one of the world's leading social intelligence companies. Its social media listening and analytics technology platforms gather millions of online conversations every day and provides users with the tools to analyze them, empowering brands and agencies to make smarter, data-driven business decisions.
"Social intelligence just got even smarter, and much closer to predictive," said Giles Palmer, Brandwatch CEO. "Signals isn't just a notification system, it actually anticipates mission-critical issues providing users with a competitive head-start on mitigative actions. This groundbreaking technology is unmatched in our industry."
Cutting through the noise of social to identify the key data that matters is critical, especially during crises. Signals provides a powerful real-time layer of insight and assurance, helping decision makers stay ahead of potential issues or threats so they can prepare public statements, a plan of attack, or competitive depositioning. For brands, agencies and senior management, Signals takes the guesswork out of crisis monitoring, thanks to intelligent calculations that anticipates users' interests and sends real-time email alerts whenever the system records notable or unusual social activity.Users simply set up Signal alerts for any query and alerts can even been sent to non-Brandwatch users.
Beyond crisis management, Signals can also be used by Brand reputation. Alerts individuals to real-time campaign insights, emerging topics or customer service issues gaining traction on social, inaccurate or damaging information, new hashtags being used alongside mentions of the brand, which may be potentially harmful, or conversely present an opportunity to better engage with the community, spikes in brand conversations, globally or regionally and competitor trends or stories, whether negative or positive, that may present an opportunity for comment or depositioning.
For PR/agencies, it provides insight into client issues before they gain momentum. For Security/IT, it allows security and IT staff to get ahead of potential threats, both physical or virtual, on staff, company, premises, or equipment. For Community management, it allows Customer questions, complaints, and praise can be easily verified and posts requiring responses can be prioritized in real-time.