Bottlenose Nerve Center Virtual Analyst in the Cloud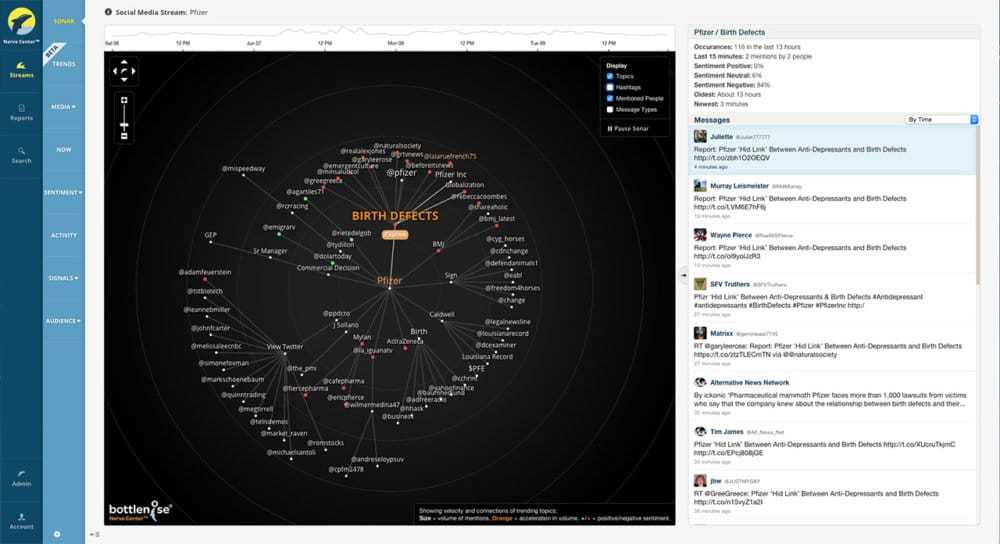 Bottlenose Nerve Center Virtual Analyst in the Cloud : Bottlenose Nerve Center provides an enterprise-grade, real-time dashboard for discovering, tracking and acting on influential trends as they form and spread in social, broadcast and enterprise data streams. Nerve Center 2.0, features new trend intelligence capabilities to automate data science and analysis for high-volume, streaming data. Nerve Center gives brands the ability to act on social and media-driven trend phenomena in real time, reducing reliance on human analysts to take decisive action. With Nerve Center 2.0, Bottlenose combines automated trend detection with breakthrough emotion and demographic analysis, and makes its trend intelligence platform insights available to developers, via APIs, for the first time.Bottlenose recognizes it's impossible for brands to fully monitor and analyze streaming firehouse data using only human analysts. Real-time data streams overwhelm the ability of human analysts to keep up, let alone to find patterns in the data during live events and situations. With that in mind, Nerve Center 2.0 applies extensive real-time data heuristics and machine learning to automate the detection of trends and insights in any amount of real-time data, to identify statistically significant trends as they occur.
"The automatic trend detection in Nerve Center 2.0 alleviates the need for constant attention from human analysts. Now, without having to monitor the platform 24/7, users can be alerted of any important trends such as breaking news, emerging influencers, viral content, bursting topics and hashtags, and spiking sentiment," said Bottlenose CEO and co-founder Nova Spivack. "This eliminates the choke point of humans in the process of real-time comprehension of patterns in vast amounts of data. And that's just the beginning. In the future, our platform will be able to spot a growing repertoire of complex patterns and trends in data streams. We are automating the analyst, one skill at a time."
Nerve Center 2.0, Bottlenose extensively revised and expanded its underlying platform, StreamSense, to radically accelerate and automate trend detection. With the new architecture, StreamSense now analyzes over three billion messages, and nearly 300 million data points, per hour. Trends are automatically clustered to connect related activity, providing users with a holistic view of bursting threats and opportunities in broadcast, social and enterprise streams. The company also introduced new customizable alerts and reporting features, making insights sharable and accessible beyond the moat of analysts. Customers can configure alerts based on the type and strength of trends detected, and allow Nerve Center 2.0 to deliver timely information via email to desktops and mobile devices.
In Nerve Center 2.0, Bottlenose also supplements the real-time value of instant trend alerts with similarly instant or scheduled generation of detailed reports that give both analyst and general business recipients a more complete understanding of real-time market conditions, including community sentiment, demographics, leading influencers, detailed activity metrics and context.
Bottlenose believes emotion is the most elusive audience trait for marketers to understand. Nerve Center 2.0 illuminates emotion and demographics of audiences, using sample profile data for 350 million social media participants with 95 percent accuracy on average. With Nerve Center 2.0, customers can for the first time drill into trend drivers to identify audience characteristics including occupation, age, family status, religion, personal income, language, fashion brand affinities, dining and shopping affinities. The application also can analyze emotion, advancing sentiment beyond positive, negative and neutral—even detecting sarcasm and measuring different forms of intent (to-buy, to-watch)—to give customers a better understanding of audiences, influencers and threats.