BlueTalon Data Access Control on Hadoop Distributed File System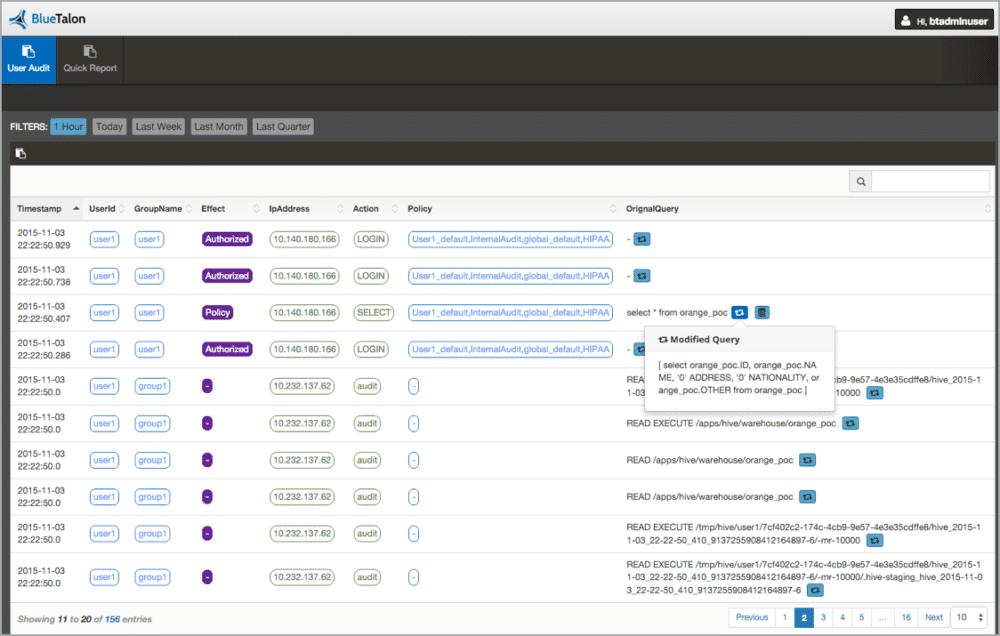 BlueTalon, provides data protection for Hadoop including filtering and dynamic masking capabilities directly on the Hadoop Distributed File System (HDFS). Fine-grained access control on HDFS, the storage layer used by all Hadoop components, is a milestone achievement. Enterprises get a catch-all security blanket for Hadoop that not only blocks users from bypassing security controls to access data directly in HDFS, but also eliminates the risks that come with security policies being siloed in specific applications.
"In today's world, companies need new weapons to fight the massive data breaches that have become all too commonplace. By empowering companies to let their users access the data they need to do their jobs, and not a byte more, BlueTalon's data-centric security enables Hadoop to be fully embraced for sensitive data storage in the enterprise," said Eric Tilenius, CEO of BlueTalon. "Data filtering and dynamic masking are a game-changing next step on our strategic roadmap to ensure that enterprises can deploy security policies that meet their most stringent business needs to protect their sensitive data."
By introducing fine-grained control on HDFS that is on par with the Hive, Impala and relational data-centric protection already provided via the BlueTalon Policy Engine, BlueTalon is delivering on its commitment to empower enterprises to take full advantage of Hadoop by itself and as part of their larger enterprise data infrastructure. As the only provider of consistent data-centric controls and auditing across a wide range of data repositories, BlueTalon is being used by leading Fortune 500 companies both on-premises and in the cloud—including Microsoft Azure and Amazon Web Services.
"To avoid costly breaches, organizations must enforce precise data authorization," said Nik Rouda, senior analyst, ESG Research. "With access controls directly at the HDFS level, BlueTalon delivers a much needed security solution for enterprise Hadoop deployments and beyond."
Big data has transformed the way companies store, access and process data for business insight.To solve the industry-wide challenge of having silos of security policies, the BlueTalon Policy Engine was developed to enable consistent, precise and dynamic user access policies across the enterprise regardless of repositories and applications in use. By bringing its Policy Engine to the core of Hadoop, BlueTalon has overcome a major challenge in making big data technology enterprise-ready.
BlueTalon delivers leading data-centric security for Hadoop, SQL and big data environments. Leading enterprises use BlueTalon to control their data by giving users access to the data they need, and not a byte more. The BlueTalon Policy Engine provides precise authorization, fine-grained filtering, dynamic data masking, stealth analytics and auditing across applications and enterprise data stores.