Review
Deloitte Risk Management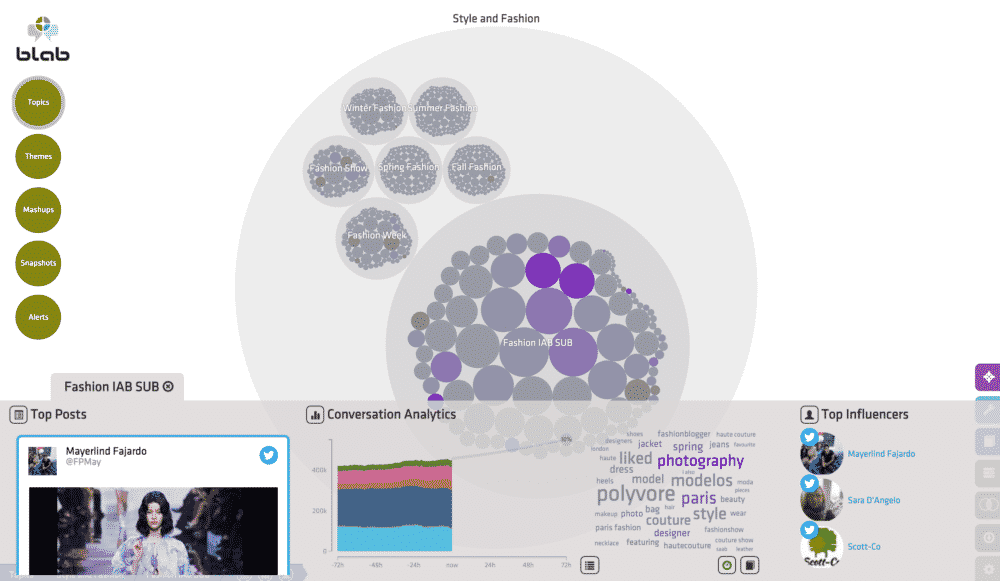 Overview
Blab's Predictive Social Intelligence effectively and affordably turns insights into action. The result is increased ROI through laser-focused programmatic campaigns, engaging earned media programs, and optimized owned media.
Small (<50 employees), Medium (50 to 1000 Enterprise (>1000 employees)
Blab uses a Predictive Social Intelligence to put a stop of the old ways of marketing strategies and find a better and affordable system that turns insight from customers in to action. Blab consists of marketing professionals and technology experts to help brands be able to engage in this dynamic consumer-driven era.
Blab targets consumer based on insight reports on what they watch, read and search for while predicting at the same, insights are also provided to make sure the company's brand is always on top. Blab manages targeted customers and initiates engagement from different social media accounts that are relevant or managed by the business. Campaigns are also planned to ensure better audience engagement.
Blab determines consumer interests by checking on what they are talking about, how they interact and the way they share media across most social media websites. These are used by Blab to find the company's target market and plan on campaigns and activities that would make the brand visible.
Blab predicts stories that are vital for your brand while it could also monitor audiences from paid, earned as well as owned media by gathering relevant information based on conversations and what could be trending at that very moment. Using these features will definitely generate more audience to the company's website and social media accounts.
With Blab, users will have access to the automated insight tool that provides better and important information when managing your customers. The dashboard that is designed to make conversation data simplified. Analytics, reports and automated predictions are also included in Blab's one whole program that's easy to navigate and understand.