Review
Bizzabo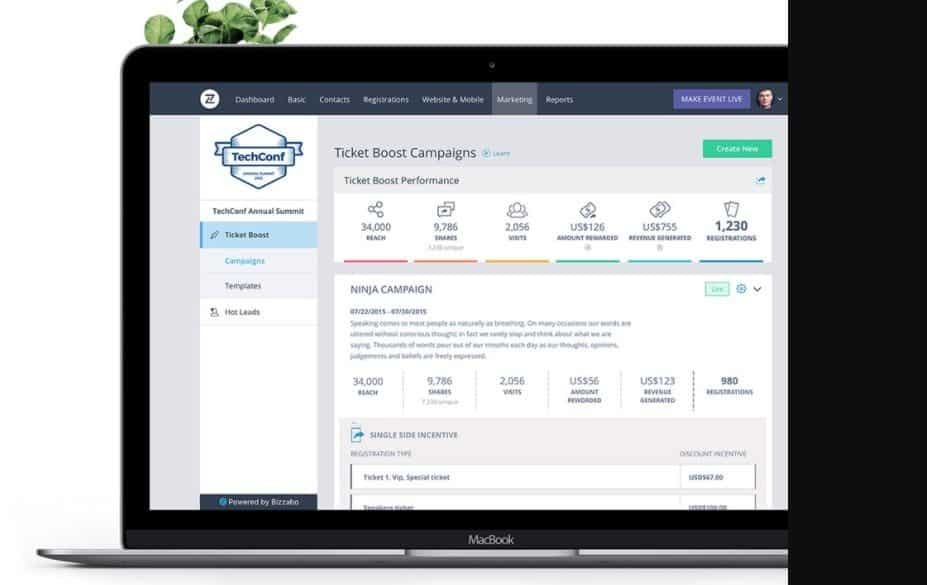 Overview
Bizzabo build event marketing programs, create on-brand digital experiences, manage event registrations, provide networking communities and take data-driven decisions all in the same event platform
Event Management Platforms
• Event Registration and Ticketing
• OnSite Check-In
• Organizer-Friendly Payouts
• Painless Refund Process
• Live Messaging
• Own Your Fees
• Game-Changing Session Registration
Small (<50 employees), Medium (50 to 1000 Enterprise (>1001 employees)
Bizzabo sets off to make professional events more successful, impactful and rewarding through helping users make the event experience easier and more engaging for everyone- organizers, attendees, sponsors, and exhibitors alike. Bizzabo also brings together cutting edge technology, innovative spirit and events background to lead the meetings industry to new frontiers.
Moreover, Bizzabo helps organizers create successful events by empowering them to build amazing websites, sell tickets, grow communities, go mobile and maximize event experiences - using a beautiful, user friendly platform. Bizzabo helps to manage event(s) from start to finish with the all-in-one event planning software which helps organizers manage ticketing, communication, promoting, networking, and analyzing one or many events.
The future is here. Bizzabo also promotes smarter and sellout event by helping to segment the audience to send smarter, targeted emails that will actually convert.
It turns attendees into best event promoters. Bizzabo further builds a community which creates an unforgettable experience. Wow event participants by making the event truly engaging with Bizzabo's world leading event networking platform and audience engagement features. Users will be in control and be in the know.
The event planning software provides real-time analytics to help users make informed decisions about the event. From tracking goals of ticket sales, to measuring engagement activity with sponsors; Bizzabo gives them what users really want. The sponsors want to be seen and to interact with guests, attendees want to network and make the most of their time, partners want to see the event as a success-and users can give them all that with a beautiful and unified event planning software, Bizzabo.