Review
Bizagi BPMN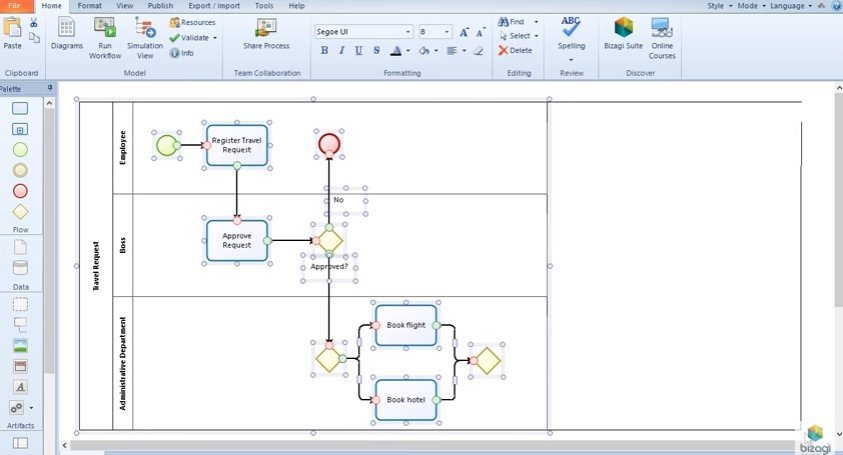 Overview
Bizagi's agile process platform connects people, applications, devices and information to provide the engaging experience that digital customers demand.
Business Process Management Software Free
• Design process maps
• Build process applications
• Run Bizagi enterprise wide
• Publish high quality documentation
• innovative drag and drop interface
• Based 100% on BPMN notation
• Modeler Collaboration Services
• Simulate your processes
• Multi-language
Small (<50 employees), Medium (50 to 1000 Enterprise (>1001 employees)
Bizagi Modeler makes way to cloud collaboration, speed and powerful drag-and-drop design tools bridge the gap between business and IT, engaging everyone in the process discussion from the start. Users may say goodbye to programming to say hello to modeling.
Bizagi BPM software puts simplicity first. . Bizagi BPM's innovative drag and drop interface optimizes the best in clean, modern design and lets users have fun when creating professional documents for businesses. Users can publish high quality documentation in the preferred format: Word, PDF, Web pages, SharePoint or Wiki. Bizagi guides and demos support users' BPM steps all the way.
Bizagi Modeler is based 100% on BPMN notation. The easiest to use BPMN process modeling tool in the market. Go Beyond Process Modeling with Bizagi Modeler. Users turn process maps into running process applications without programming with just a few clicks away.
Bizagi Modeler also offers Collaboration Services which transforms user popular process modeling software into a global portal for process governance and compliance. With Bizagi Modeler, users can: Optimize and publish operational processes to increase efficiency and governance across the organization; Eliminate the need to create and manage a centralized process repository by saving models directly in the cloud; Work together with colleagues who can review the models from anywhere on any device and provide real time feedback.
With centrally documented process models, employees can easily access and learn those processes, improving compliance with policies and procedures.
You may like to read: Top Open Source and Free BPM Tools and How to Select the Best Business Process Management (BPM) Software for Your Business