Birst Networked BI to Transform Enterprise Analytics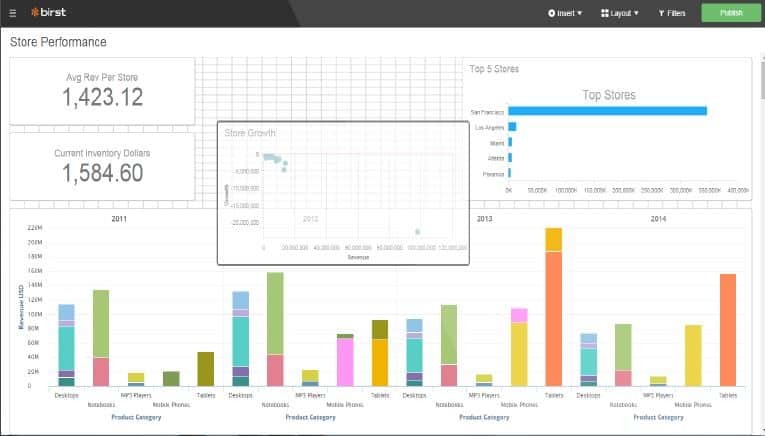 Birst Networked BI to Transform Enterprise Analytics : Birst, "Networked BI," redefines the way BI is delivered and consumed. This new technology enables global governance with local execution and further realizes trusted and agile collaboration between centralized and decentralized teams. Traditionally, organizations have depended on centralized IT to physically replicate data and metadata infrastructures to enable analytics for decentralized groups. This approach is time consuming, expensive and, ultimately, a barrier to end-user self-service. Instead, "Networked BI" virtualizes the entire BI ecosystem, transforming every aspect of an organization's approach to analytics, from application development lifecycles to end-user generated data mashups and content.
Built on top of Birst's modern, multi-tenant cloud architecture, "Networked BI" creates a network of interwoven BI instances that share a common analytical fabric. This enables organizations to expand the use of BI across multiple regions, departments and customers in a more agile way, and empowers these decentralized groups to augment the global analytical fabric with their own local data. The result is enterprise-grade scalability at unprecedented speed and end-user freedom with self-service data preparation capabilities and transparent governance. By bringing analytics to the virtual world with "Networked BI," Birst eliminates data silos once and for all and dramatically accelerates the delivery of BI across the enterprise.
Many BI products on the market have focused primarily on end-user ease of use, while neglecting governance capabilities necessary for enterprise-wide analytics. Birst's "Networked BI" approach is the solution for IT and business leaders looking to empower users to work freely with data while delivering trust, governance and agility at scale.
Using Birst "Networked BI," some of the largest, most successful and geographically-dispersed enterprises are leveraging virtual BI instances to proliferate the use of analytics throughout the entire organization at a pace not possible with traditional approaches, significantly increasing agility and reducing costs.
Birst's virtual BI technology enables "Networked BI," so customers can enable federated data access across the globe with local and aggregate views.Deliver virtual BI instances to decentralized groups to eliminate data silos and reporting chaos and scale out a multi-tenant analytic environment to onboard new customers fast.It unify enterprise and local data sources without physically replicating data and empower end users to extend the centralized analytical fabric on their own with self-service data preparation capabilities and enable decentralized groups to augment a global analytical fabric with local data, without impacting other groups.