Birst delivers Embedded Analytics for NetSuite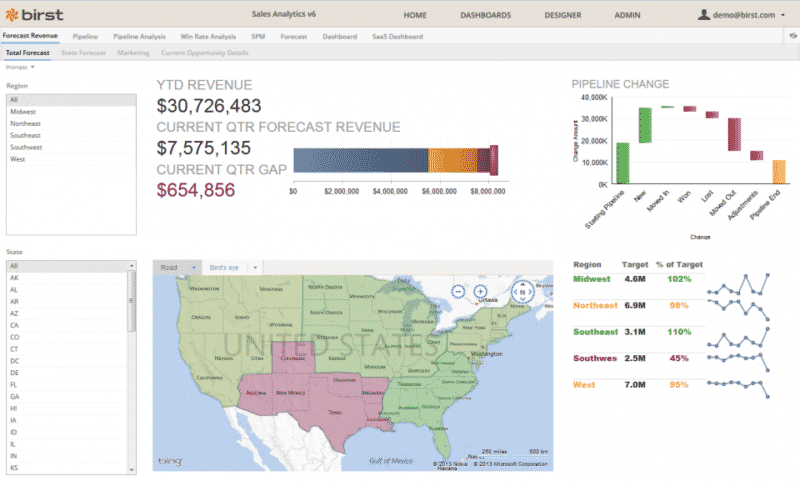 Birst delivers Embedded Analytics for NetSuite : Birst, the global leader in Cloud BI, added Birst Express for NetSuite, a free analytics module that NetSuite administrators can use to achieve greater operational efficiency across their organization. Birst Express for NetSuite is part of the Birst analytics family, which includes Birst Discovery and Birst Enterprise editions.
Birst is the global leader in Cloud BI and Analytics. The company helps organizations make thousands of decisions better, every day, for every person. Birst's patented 2-tier data architecture and comprehensive BI platform sits on top of all of your data, to unify, refine and embed data consistently into every individual decision—up and down the org chart.
Birst delivers sophisticated analytics that give users the ability to easily examine and view the status of key metrics. The new Birst Express for NetSuite edition provides NetSuite customer administrators access to analytics at no cost, meaning that business critical analysis across data such as booking and billings information can be easily leveraged and maximized. Customers just need a Java Database Connectivity license to take advantage of this free Birst version.
With Birst Express for NetSuite, companies can:
• Compare book-to-bill conversion rates across products, customer types and more.
• Understand billing trends over time and identify bottlenecks to improve performance.
• Gain insight into subscription business KPIs such as operational analysis, deferred revenue and renewal rates and more.
• Uncover valuable insights to help decrease days sales outstanding and increase working capital.
• Eliminate manual reporting and accelerate decision-making.
Birst Express for NetSuite includes the visual discovery solution, Birst Visualizer, which combines Google-like search and Amazon-like recommendations to reduce time-to-answer for a wide range of questions. The free module includes a pre-built library of more than 50 operational metrics and attributes, with historical and dimensional views to deliver rapid time to value. Rich visualizations, enterprise dashboards and more than 20 pre-built reports provide instant insight into key operational issues.
Customers who choose to upgrade to Birst's full self-service Enterprise edition will be able to combine data from different sources, including Salesforce, Marketo, RDBMS, Big Data systems, and more. Organizations can analyze end-to-end business processes like campaign-to-cash or perform cohort analysis to understand the driving factors behind renewals and churn. Finally, Birst's unified logical layer creates a library of customers' business KPIs, creating a reusable, secure, single source of truth for a wide range of analytic queries.