9 Best Practices for Data Preparation Software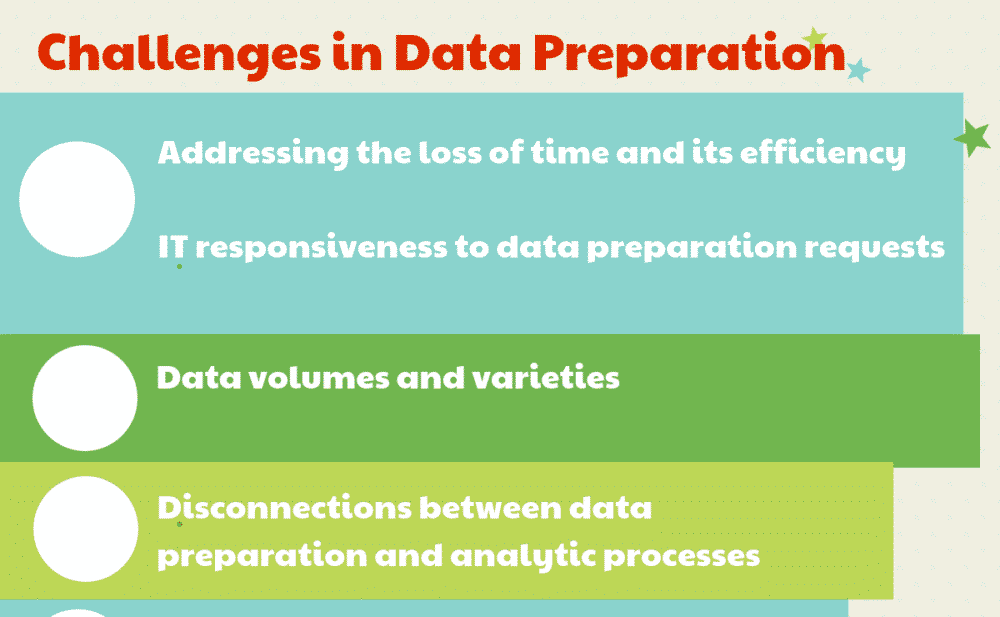 The fact that users seek the full power of analytics, but the data isn't that good to support that can be so disappointing.  For exploration and data discovery analytics can be of great use to define some business outcomes and provide information that can help to achieve those outcomes because business users need relevant data. Businesses are doing their best to be self-sufficient thus reducing the reliance on IT by introducing self-service technologies and advanced analytics that are limited to statisticians and data scientists.
However, challenges such difficult, tedious and slow data preparations that are being experienced by both data scientists and non-technical users are limiting these advancements. For both IT and business departments in an organization, data preparation is a hot topic of discussion. It is a significant focus of innovating software methods and technology with the aim of automating and accelerating processes that are crucial to supporting business analytics.
The IT job has been labeled as integrating, cleansing, blending, transforming, blending and defining multiple data sources metadata that include new and massive raw data. But the broadening the interests in analytics and data science have led to non-IT individuals into these tasks execution.
Smart self-service tools have been the primary focus for data analysts and non-techie users so that they may manage the difficulties and enable fast data preparation and being able to streamline data preparation, allow better service by IT to users and improve productivity.
You may like to read Top Self Service Data Preparation Software
What are Data Preparation Software?
Businesses can capture business definition with technical metadata, demand for the quick development of integrated views of data and self-service business with the need tools in the market. What most enterprise need is a process of data preparation that enables them to record data asset common wisdom, data usage best practices, data definitions and the applicability of data algorithms and metrics. Being able to understand the complications of a single column in a table enables the discovery of the relationship between data elements.
The knowledge is essential especially when analysts and decisions makers in an organization need flexibility, e.g., when users want to perform more ad hoc discoveries that lead to rapid changes in the user requirements or when users don't want a single view of data somewhat different views.
Innovations in technology are enabling fast, smart and automated transformation and integration of data so that it may support more varied use cases. The challenges can only be addressed by businesses experiences with cubing demands for agile transformation and integration.
Data preparation involves several phases, thus making it difficult to define. The process starts with ingestion and sourcing of data, then enriching and transforming the data so that it may be suitable for use, then through stewardship and governance integration that enables improvement and monitoring of how data is utilized for analytics and business intelligence.
You may like to read Top Self Service Data Preparation Software
Though the steps don't run sequentially, they are overlapping and independent. So that steps can be easily repeated through process guidelines some to the data preparation tools provide workflow, or sometimes referred as a pipeline.
The pipeline is crucial for data lineage documentation and governance behind the analytics because that's how logical conclusions based on particular data were able to be reached.
Data preparations are not a onetime event instead of a series of ongoing processes. IT and business should collaborate and try to replicate dataset preparation. There is often change in data matter with data preparation. An insubstantial corporation, data preparation is usually part of massive business information management strategy.  Data preparation should support and integrate with data governance.
You may like to read Top Self Service Data Preparation Software
What are the challenges in Data Preparation?
There are several challenges that organizations face with data preparation or on improving data preparation. Analysts and technologist have been looking for practices and technologies that can be advanced to address the challenges. Here are some of the challenges and ways of overcoming them.
Addressing the loss of time and its efficiency: Inefficiency and failure of time is the common challenge of data preparation. Analytics and BI users spend quite some time trying to identify the right data, only to discover that data is not prepared according to their requirements. Analyst and users can collaborate and efficiently share because time is wasted by creating questions that have been developed by others thus can't be used. There is a considerable amount of personnel and time devoted to the preparation of data.  The steps taken to improve the efficiency of staff and reduce the time could result in significant impact. It is essential that business users reduce the number of resources and time spent on data preparation for analytics and BI.
IT responsiveness to data preparation requests: For data preparation to perform its tasks and to be able to service user requests, it highly relies on IT. Consider the amount of time taken to respond to requests relating to data preparation such as changing attributes in current databases, cleansing data or the adding data to data warehouse by the IT team. IT is taking a significant amount of time to fulfill the requests. Being able to respond faster is always better, especially if the decision makers rely on the data to analyze some of the potential business opportunity. Most cases users are left to work with the low or outdated quality of data. The business might be faced with many decision mistakes if they aren't able to address the response time of data preparation requests.
Data volumes and varieties: No matter how large an organization is, there is a significant rise in data volumes and varieties.  Businesses are trying to tap massive sources that are unstructured or semi-structured which include a sensor or machine data, customer behavior data, geolocation data, log file data and feeds from external sources. Data variety is important when users analyze sources which are diverse to investigate the different variables and spot patterns, trends and correlations. Even though, variety isn't about unstructured and semi-structured data types. Structure data can as well be varied if it comes from third parties, websites, and partners.
Disconnections between data preparation and analytic processes: In most cases analysts build scripts and apply data in them, check the results and repeat the process. It can be stressful if data preparation processes and analytics are separated entirely and require significant waiting time in between them.
You may like to read Top Self Service Data Preparation Software
What are the Best Practices in Data Preparation?
Shorten the time to achieve business insight: Data preparations enable the reduction of time to information. It makes it a priority by applying new methods and technology which removes latency in getting individuals from data to insight.
Reduces valuable data delivery time: The most significant complaint regarding data preparations in many businesses is it takes too long. Current data preparation procedures need to be evaluated by the company to remove routines that are unnecessary and creating strategies that increase standardization and automation processes for new data integration
Achieve higher levels of repeatability by the use of new technologies: Organizations should evaluate on ways that they can adjust processes and integrate technologies, to recycle workflows, other elements, and scripts for the next project. Adopt collaboration framework by encouraging the sharing of workflows and repeatable methods.
Self-service data preparation technologies: Data preparation is moving towards the direction of self-service technologies. On selected samples of data, business users should test self-service capabilities before migrating them on massive and complicated sources.
Integrate self-service data preparation with self-service BI and visual analytics: Evaluate on technologies that facilitate this integration; by encouraging experts to share their skills to novice users so that it may help them data preparation self-service processes so that it may support their use of analytics tools and self-service BI. Not all data formats are developed equally, but they can be captured, generated and stored in a variety of structures. Data preparation process efficiency and speed can impact the time at which insights discovery takes. But understanding the scope of data that is reanalyzing and being able to see the change in your data ensures total acceleration of the whole process.
Think about the data: Before you choose any software, it's important to know how users will utilize the data you are preparing. Once you understand the context it will enable you to determine the structure of your data, the type of dataset to use and how much data to use in the data preparation software.
Know the structure of your data: Now that you can understand who will use the data, how it will be used, and where it is stored the next thing would be to know how it is developed. You wouldn't want to purchase data preparation software without understanding how data is inputted, level of detail of the data and identifying the fields that are related and dependent on each other. Before you move forward with data preparation process, it's good to know your data structure.
Keep track of your steps: It is essential to stay focused throughout the preparation process. You don't need to follow a specified set of instructions when preparing for your data instead chose a way that is sensitive to you, because that makes it easier to edit and update changes if you know where you made them.
Run the flow and Start the analysis: Once you have achieved a clean and restructured, it is time to understand what information it's giving out. Select a tool that integrates into your BI platform fully, extracts and enables analysis by other systems so that you can explore it more profound. If it can perform that you will be able to unleash the insights.
Here are the trending and the top rated Top Data Preparation Platform for you to consider in your selection process:
Top Data Preparation Platform
PAT Index™
Here are the trending and the top rated Top Self Service Data Preparation Software for you to consider in your selection process:
Top Self Service Data Preparation Software
PAT Index™
You may like to read Top Self Service Data Preparation Software