Review
Backbone.js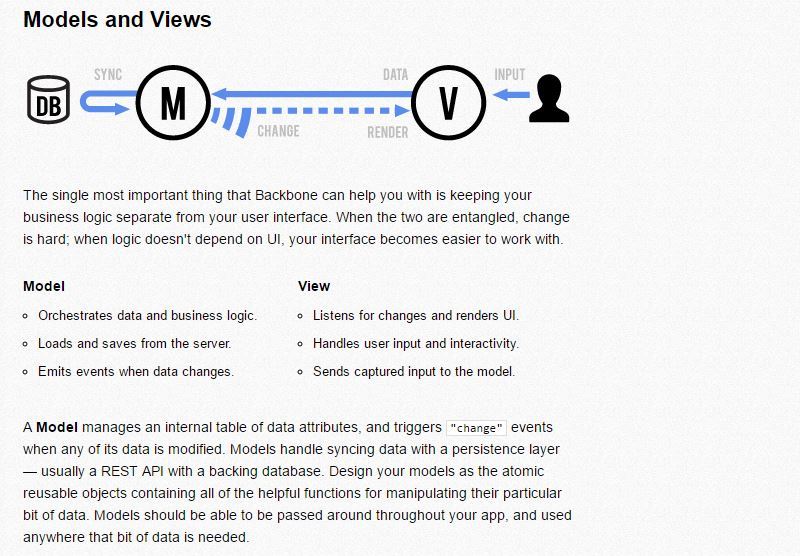 Overview
Backbone.js gives structure to web applications by providing models with key-value binding and custom events, collections with a rich API of enumerable functions, views with declarative event handling, and connects it all to your existing API over a RESTful JSON interface.
RESTful JSON interface
MVP design paradigm
JavaScript framework
View rendering
Collection Model
Small (<50 employees), Medium (50 to 1000 Enterprise (>1001 employees)
Backbone.js is a JavaScript framework with a RESTful JSON interface and is based on the model–view–presenter (MVP) application design paradigm. It gives structure to web applications by providing models with key-value binding and custom events, collections with rich API of enumerable functions, views with declarative event handling, and connects it all to the user's existing API.
Commonly, when working on a web application that involves a lot of JavaScript, it is easy to tangle up the routes and difficult to maintain the data sync between the HTML user interface and the JavaScript logic. Due to it, Backbone presents the data as Models, which can be created validated destroyed, and saved to the server as collections.
Whenever a user interface action causes an attribute of a model to change, the model triggers a "change" event; all the Views that display the model's state can be notified of the change, so that they are able to respond accordingly, re-rendering themselves with the new information.
In a finished Backbone app, the user does not have to write the glue code that looks into the DOM to find an element with a specific id, and update the HTML manually — when the model changes, the views simply update themselves. The project is hosted on GitHub, and the annotated source code is available, as well as an online test suite, an example application, a list of tutorials and a long list of real-world projects that use Backbone. Backbone is available for use under the MIT software license.